A Biology Professor's "Modern Mary Poppins" Atlanta Home
We independently select these products—if you buy from one of our links, we may earn a commission. All prices were accurate at the time of publishing.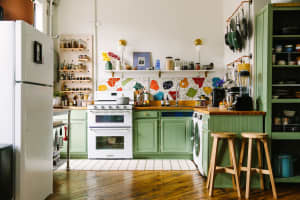 Can't-Miss House Tours Straight to Your Inbox
Keep up with our latest house tours each weekday with our House Tour of the Day newsletter
Name: Meleah
Location: Old Fourth Ward/Virginia Highland — Atlanta, Georgia
The basics: 2 years, rented — 1,000 square feet
Meleah's Atlanta home is full of light thanks to gigantic windows that also offer up a gorgeous view. She's filled her home with art and trinkets from her travels, making the space totally unique and fantastically interesting.
Tell us a little (or a lot) about your home and the people who live there: My place is distinctly 'Meleah.' As a biology professor, I embrace both the awesome beauty of life and the order of scientific process. These qualities echo throughout my home, embracing bold and colorful pieces while maintaining a clean and functional space. I was initially drawn to the bright natural light and easy, open floor plan and stellar location (it overlooks the Atlanta Beltline, allowing me to live nearly car-free and has a lovely view of the Midtown skyline). I learned how to reupholster thanks to my two furry feline friends, whom I love and adore yet have a tendency to shred my furniture to pieces. This skill has helped me to shake things up when pieces start to feel stale – the chair in the living room is on its third life.
The walls of windows and open floor plan means there isn't tons of space for wall decor – so I've taken full advantage of what's available and filled it full of photographs of street art I've taken or pieces acquired during my life and travels. My favorite may be the eggplants in a boat from Tel Aviv, the painted paper birds found at a flea market in Mexico, the wall full of funny fish from Wellington or the pop-art posters from my old Minneapolis neighborhood. Actually, I have too many that I love to designate a favorite. It delights me that people quickly feel at home and how it showcases my interests and experiences, making it feel uniquely my own.
What is your favorite room and why? The open living and dining room space is perhaps my favorite because it is cozy without feeling cramped. I love looking out my windows and seeing Atlanta's Midtown skyline surrounded by lush greenery and then shifting my gaze inwards to the art and photographs reminding me of the life I've led. The space is great for settling in with a good book and cup of coffee, yet also excellent for having friends over and indulging in a well-crafted cocktail and conversation.
If you could magically change something about your home, what would it be? Adding a small second bedroom! I have been known to undertake semi-large projects (i.e. furniture re-upholstery and refurbishing) and a dedicated space to keep a mess while these types of projects are in progress would be ideal. I also occasionally host out of town guests, so having a separate space for them (and their luggage!) is desirable. However there are so many other fantastic things about my place, namely the location, the layout and the windows, that the lack of a second bedroom is really only a minor quibble.
What's the last thing you bought (or found!) for your home? I was recently in New Zealand and brought back a small painted stone carving of a tiny bird in a forrest. It reminds me of my epic solo trip to the land of the long white cloud, but also is reminiscent of some street art I photographed in New Orleans many years ago (and now have hanging in my kitchen). I love serendipitously bringing items into my home that share common threads!
Which fictional character would be most at home in your place? A modern-day Mary Poppins. I think my home balances form and function with an undercurrent of past adventures that would resonate with an orderly yet delightful woman such as Mary Poppins. Sharing the space with my cats and the ever-increasing number of plants means there are plenty of living beings to nurture. Plus with its accessibility to the Beltline, its easy to go urban exploring!
Meleah's words of wisdom: My favorite things are the ones that have stories attached to them. People say to spend your money on experiences and not things, to which I wholeheartedly agree, but with the caveat that its okay to commemorate those moments with display pieces – which for me often means photographs and art rather than trinkets.