A Bold and Colorful Boston Condo Is a Marvelous Mix of Styles
We independently select these products—if you buy from one of our links, we may earn a commission. All prices were accurate at the time of publishing.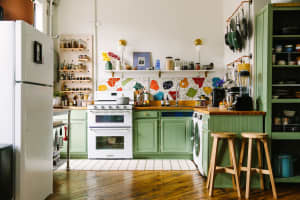 Can't-Miss House Tours Straight to Your Inbox
Keep up with our latest house tours each weekday with our House Tour of the Day newsletter
Name: Madison Wetter, husband Skyler, and Italian Greyhound, Warren
Location: Boston, Massachusetts
Size: 2,100 square feet
Years lived in: 2 years, owned
Furniture aside, our space is filled with three big personalities: my husband, Sky; our Italian Greyhound, Warren; and me, Madison. Like most, we wanted to decorate our first home with a style and quality that would not only last us but one that would also make us proud. It was both a challenging and inspiring process but, at the end of a long day, it's a great feeling to not be able to wait to get home. We absolutely love it here.
When it comes to decorating, Sky's personality and mine do wonders to balance one another. I tend to be the creative visionary while Sky is typically more focused on the functionality and practicality of the design. For me, sky's the limit but, truthfully, Sky is the limit in the best of ways. I think a great example is this vase we have filled with reeds. I wanted to place it on the side of this table because I thought it looked great and filled a drab blank spot on the wall. Sky's immediate approach was to casually walk by the plant a few times. It turned out there wasn't actually enough space to move without brushing up against it and moving the vase. Needless to say, we didn't keep it there. It was that dynamic which really helped tackle our home decor from every angle. The result is a super durable and livable space for our puppy, our friends and us to enjoy.
To start our decorating adventures, we had most of our furniture from the old apartment. We slowly retired, repurposed, or replaced the pieces that no longer seemed to fit. While acquiring our new furniture, a big focus was purchasing pieces with character, or a story, and searching for quality that would enable those pieces to continuing sharing our story. A great example of one of those pieces is our Young Manufacturing Co. refurbished mid-century modern credenza in our living area. Not only does it already have its own story by the very nature of its age, it's also been skillfully refinished to continue telling it. It was that kind of personality that we were really after. Those stories also make for fun conversation when people ask us about those pieces.
Along with searching for show-stopping heirlooms, we inherited a lot of paintings and décor when my grandmother passed away. The majority of these carry strong Southwestern and Native American influences. Being from Arizona, I was excited to mix these items into our space. However, it was a challenge blending our mid-century modern, global eclectic, and Southwestern décor into one cohesive look. To accomplish that, we focused on letting those pieces inspire the design of our rooms rather than dictating the overall style. I'm sure we broke some rules along the way but that's sort of how we did it.
The end goal was really to tell a story through our home without it feeling jumbled. We wanted to acknowledge our lives before we knew each other, our life shared together and our life together in the future. It was really a matter of using what we had, buying what we liked, and figuring out how to make it work. A lot of what we used to make that story flow was color. It was surprising to discover that you can actually mix a lot of styles in a home if you stay mindful and strategic with your colors. When you step into our home, you're in a massive 60-foot-by-20-foot kitchen and living area. From a decorating standpoint, it was a beast. Rather than overwhelming any of those gargantuan walls with paint, we splashed bright pops of colors on the walls of the room off of the living area. We wanted the door of each room to serve as a sort of "frame on a wall." It really came down to asking "what do we want that piece of art (the room) to look like from the living room?" From there, we pulled bits of those bright wall colors into the living room using accents and textiles.
You'll notice that almost every room in our house has a thread of color taken from the others. Some people probably think we are insane for the bright colors we've painted our walls but we went with what we liked and I think that's what gives the home its flow.