A Built-from-Scratch Vacation Home for Three Families
We independently select these products—if you buy from one of our links, we may earn a commission. All prices were accurate at the time of publishing.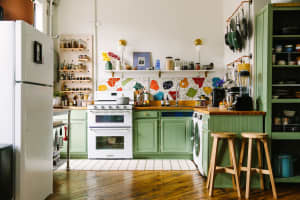 Can't-Miss House Tours Straight to Your Inbox
Keep up with our latest house tours each weekday with our House Tour of the Day newsletter
Name: Janna, her husband and two other families
Location: Mohave Valley, Arizona
The Basics: Around 3 months, owned 2,400 square feet
Building a house from scratch is tough. Building a house from scratch that is going to eventually be the vacation home of three families is extra tough. Janna's vacation home manages to blend style, function, fun and enough space for a whole host of people.
Tell us a little (or a lot) about your home and the people who live there: My husband and I were looking to buy a home on the Colorado River where we could boat, float and wake surf to our heart's content. A couple of his good buddies and their ladies were interested, too, so we started looking at real estate for three young families to share. Instead we found a vacant lot, river adjacent, but set on a private lake with spectacular mountain views. We threw out an offer and about six months later had the keys to all of our first custom vacation home!
My man's best friend is a contractor and I'm a newly full-time interior designer, so the two of us were heavily involved in the building process. We did most of the coordination from 300 miles away, and somehow it all came together just as we had envisioned it. The guys have all been friends since high school, and still act like they're in high school most of the time, but are all great fathers to all of our little ones, ages six months to four years. The house is a 3 1/2 hour getaway on the weekends for us to let loose, blend some margaritas, crank the music, play on the water or ATV in the desert, and have evening gatherings on the water front patio. We call it "Eden East" — from Couples Retreat.
What is your favorite room and why? I just love the great room. I love the unobstructed panoramic views from our picture windows, and I also really love the way the pool table and wet bar area came together visually. I'll admit I was skeptical when the guys insisted we have a pool table smack in the middle of the house, because I didn't want it to feel like a bachelor pad or a man cave. I also knew a beautiful, contemporary table like what you'd find from Restoration Hardware wasn't in the budget, but we found an affordable option that had clean lines and customizable felt, and everything from the light fixtures to the open shelving just makes me smile now.
If you could magically fix something about your home, what would it be? Haha, well, there's this mysterious cheese-like odor coming from the garage that no one seems to be able to figure out or fix. It's pretty offensive, not going lie. But it's been there since the house was just sticks! Yet, still, a total caper. If that's too gross, the house gets pretty loud. Most of it is just us being us- and there's a lot of us, but the floors are tile and the floor plan is so open that sound carries everywhere! I still absolutely love the floor plan regardless. (We created it on an Excel spreadsheet over a few bottle of wine.)
Janna's words of wisdom: Don't back down! If you have a vision, or would like to incorporate something you love, don't let people or obstacles get in the way. Find solutions and don't take "no" for an answer. However, when you live with others, whether it's one dog, or multiple families, make sure you listen to their needs and be willing to carve out special spaces for each individual. It's more rewarding to walk into a stunning home after all of your hard work, and be able to see the joy on their faces, as well.