A Chelsea Apartment With Good Bones and "Approachable Elegance"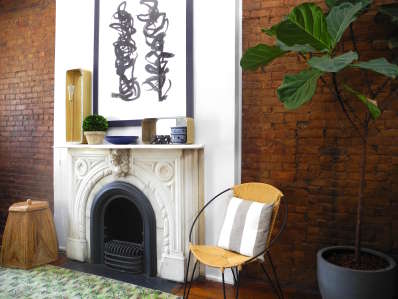 (Image credit: Submitted by Whitney)
Name: Whitney
Location: Chelsea — New York, New York
In the summer of 2015, Jordon and I had a lease in hand—just waiting to be signed—for an apartment one block away from where we ended up. It was Memorial Day weekend and we wouldn't be able to "seal the deal" until Tuesday when the building owners were back from vacation. Not unlike most competitive New Yorkers, we kept looking at apartment listings online just in case we found something better ... and sure enough, we did!
(Image credit: Submitted by Whitney)
The high ceilings, outdoor space and old-world character totally won us over. The designer inside of me couldn't wait to get my hands on it.
(Image credit: Submitted by Whitney)
While Jordon would describe his style as "whatever Whitney decides", I'd describe mine as approachable elegance. Elegance, to me, isn't a particular aesthetic, but an attention to detail that allows you to meld the old and the new—as well as the mass-produced and those one-of-a-kind finds—so every room you walk into feels fresh and new. And of course, no room is complete without at least one plant and no less than one vintage piece, if you ask me.
(Image credit: Submitted by Whitney)
With nearly 12-foot ceilings in the living room, I knew it would be a challenge to figure out how to take advantage of the height. In the "study," just left of the living room, I hung 16-foot wide "floating" bookshelves, scaling all the way up to the ceiling. It took me all damn day, but I did it. Nothing gives me greater joy than when people compliment them.
(Image credit: Submitted by Whitney)
The apartment's bones—exposed brick, original marble fireplace, wide plank wood floors, etc.—are enough to make for a pretty picture, but adding decor for some pops of color and personal character have made for a truly unique and cozy home that we're excited to share with you!
Thanks, Whitney!
• Interested in sharing your home with Apartment Therapy? Contact the editors through our House Tour & House Call Submission Form.