A Seattle Cottage, Lovingly Christened "Gay Gardens"
We independently select these products—if you buy from one of our links, we may earn a commission. All prices were accurate at the time of publishing.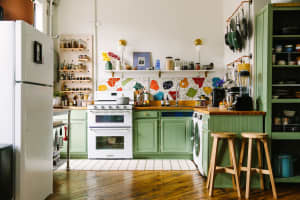 Can't-Miss House Tours Straight to Your Inbox
Keep up with our latest house tours each weekday with our House Tour of the Day newsletter
Name: Matthew & Joanna the Chihuahua
Location: West Seattle — Seattle, Washington
The basics: Rented for 1 year | 1,000 square feet
Matthew's cottage was run down and overrun with ivy when he first purchased it and he turned it into a boldly bright beaut of a home. An impressive mix of upcycling, thrifting and plant-parenthood, "gay gardens" is chock full of vibrant and interesting pieces.
Tell us a little about your home: With the ink on the lease barely dry, my ex-husband and I decided to divorce, causing us to turn the dank, musty cottage we'd started rehabbing together into more of a staging ground for starting two new lives. Unlike with other rental rehabs I've done, I started outside—clearing the intensely overgrown jungle of a yard, and uncovering parts of the house that'd disappeared under English ivy. It was as cathartic as it was rejuvenating, and I loved finding hand-laid stone terraces and unearthing yardifacts from every decade since the forties—from a jadeite towel rod to a seventies stoneware bowl. Clearly, the archaeologist in me never quite disappeared when I transitioned into nonprofit work.
Once it was just me and Joanna (a very wily Creyhound…Chihuahua-Italian Greyhound mix, who iss cray), I started reclaiming the inside of Gay Gardens (my wee rotting cottage) and making it my own—completely repainting the two bedrooms and bathroom colors I wanted, and trimming and finishing out the other rooms with a vibrant, poppy palette. Given my limited resources, I recycled part of a demoed closet into pantry shelving, and got creative with reusing all of the building materials I found strewn around the yard. Rather than investing in expensive fencing, I crafted my vegetable garden's enclosure out of cast-off wooden pallets my neighbor was tossing, along with pieces of fencing I uncovered while ripping out invasive Japanese knotweed. On the whole, I've enjoyed how all of my craft projects have turned into functional necessities, and I'd like to think they've added even more character to the house.
In terms of decor, my style has trended earthier these days, and my design schemes more plant-centric. I love all of my furniture—almost all of which made the cross-country move from North Carolina to California, and then up to Seattle—but I've pared down on the decorative bits (although it might not look like it). Everything I have I use, and that's a design motto I plan to stick by. My plants have become a collective saving grace—and an outlet for my obsession with matte midcentury planters (especially Floraline and Haegar).
At the end of the day, I love descending down my front staircase (it's built into a hill, which is the only way to reach my place) and entering my little oasis. Gay Gardens is my genie bottle, and I love all of the quirky, colorful magic inside it.
What is your favorite room and why? My favorite room started out as my biggest cottage-related eyesore and headache: the sunporch. Since it was a deck that'd been enclosed, there were gaps between the baseboards and floor (that opened right into the walls), cracks in the deck flooring (so that you could see down into the crawlspace), and a patchwork of poorly executed band-aid structural fixes that'd started failing. After caulking the baseboards, puttying and painting the flooring, and sealing cracked glass panes, it transformed from an afterthought into my favorite coffee spot. I start every morning at my kitchen table, staring out the windows at the rising sun and my vegetable garden. (And my plants love all of the light.)
What's the last thing you bought (or found!) for your home? Part of the charm of Gay Gardens is that I constantly find treasures around the house—whether I'm rooting through a flowerbed or scurrying under the house to scream at my heater to work better. In fact, when I first worked up the courage to venture under the house, I found a larder from the fifties stocked with canned preserves. I saved all of the empty jars and colorful lids, and am planning to use the jars as luminaries around the yard, and I turned the vintage lids into refrigerator magnets. In terms of buying things for Gay Gardens, I keep myself on a tight $10 weekend "fun money" budget (#nonprofitlife). I love ghosting through the last hours of estate sales and snagging vintage planters or other fun goodies. My latest haul was a trio of large, hand-painted planters from the fifties for $4.50.
Which fictional character would be most at home in your place? The ever colorful, eccentric Ms. Frizzle from The Magic School Bus. Something tells me she'd appreciate the color palette.
Matthew's words of advice: Creating a home you love is all about trusting your gut and opening your mind to creative possibilities. When I first walked into this crumbling, overgrown cottage teeming with dirt and spiders, I could see the potential—and while I certainly had my days of questioning my thinking for jumping in head-first, I'm glad I pushed through to breathe life back into it. I also try to have fun with design; I think a house should reflect your personality, and should make you smile. Even on the hardest of days, I always chuckle a bit when I walk through the door.