A Crisp & Classic Canadian Apartment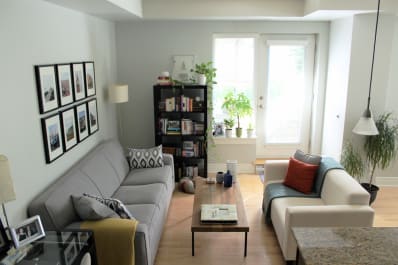 (Image credit: Submitted by Ana Maria )
Name: Ana Maria
Location: Ottawa — Ontario, Canada
I own an 800 square foot condo in the heart of downtown Ottawa. I have lived in the unit for exactly three years as of today. I purchased the unit for its open concept style and spacious rooms which makes it feel larger than it actually is. I was also attracted to the condo's classic and high quality finishes that don't go out of style. My decor style is classic rather than trendy.
(Image credit: Submitted by Ana Maria )
(Image credit: Submitted by Ana Maria )
I'm environmentally conscious and try to minimize my environmental footprint by re-using what I can. I'm most proud of taking my IKEA furniture from my student days and combining it with some new and higher quality furniture pieces into my new home. I'm also proud that my home is decorated with pieces and photos that are meaningful to me. I have a gallery wall with photos and various knick knacks from my travels throughout my home. I also like to decorate my space with photos of family and close friends. Having these personal touches makes me really love my home.
(Image credit: Submitted by Ana Maria )
(Image credit: Submitted by Ana Maria )
Another thing I love about my home is my patio. I have a green thumb (inherited from my mom) and I grow a little herb and flower garden. All my herbs and flowers grow in pots that come in the various colors of the rainbow and they bring a smile to my face.
Thanks, Ana Maria!
• Interested in sharing your home with Apartment Therapy? Contact the editors through our House Tour & House Call Submission Form.