An A-Frame Rental in the Redwoods So Stunning It Was Worth Breaking a Lease For
An A-Frame Rental in the Redwoods So Stunning It Was Worth Breaking a Lease For
We independently select these products—if you buy from one of our links, we may earn a commission. All prices were accurate at the time of publishing.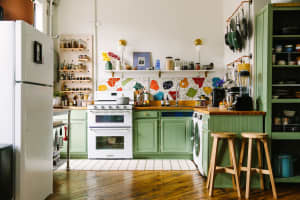 Can't-Miss House Tours Straight to Your Inbox
Keep up with our latest house tours each weekday with our House Tour of the Day newsletter
Name: Emily Billings, Max Shay, and cat, Lorelei
Location: Woodside, California
Size: 1,200 square feet
Years lived in: Seven months, renting
I can't help but read real estate and rental listings the way the rest of the world reads the daily news. I have a knack for finding homes my partner, Max, and I could only afford if we subsisted solely on rice and beans. While it's almost always wildly impractical, Max politely indulges my fixation before inevitably bringing us both back to reality. "It's definitely gorgeous, and it's definitely 200 miles away." Yet sometimes the perfect house presents itself; and just six months after you move across the country to San Francisco you find yourself breaking your lease and moving 30 miles south to an A-frame nestled among the redwoods.
We had barely finished unpacking after our move from Boston, on a stifling hot September afternoon. I was daydreaming of escaping the city heat and there it was. The A-frame was shaded by tall ancient trees and had a wraparound deck with a large garden. Comparatively, our city apartment was perpetually lit by tall street lamps and was wrapped by the broad urban sprawl of a busy intersection.
We made up our minds before we even toured the house. In a matter of weeks, we had broken our lease, signed a new one, packed up our whole life (again), and moved to the town of Woodside. It wasn't without a tinge of renter's remorse. The wall-to-wall carpeting had been a "hard no" in rental searches of the past. Beige kitchens from the 1980s and wood paneling were less than ideal in my mind. Yet, since the night we moved in, I have only felt at home.
The air smells so woodsy and clean it almost seems fake.
Our home sits atop miles of private hiking trails that wind through dense redwoods, meadows, and lakes. The massive windows and screen doors make the space feel like a treehouse, yet we're only 45 minutes away from San Francisco. As for the 1980s kitchen? Its a front-runner for my favorite rental kitchen thus far. It's the first we've had that feels both fully functional and fully integrated into the living space, and has been perfect for entertaining our revolving door of house guests.
In the past five years, we have lived in seven cities and two countries. Max and I joke that while others may go on vacation, we pack up and move. I'd like to say we will settle in Woodside for some time, but, even my own mother wouldn't bet on that. I can only say that we are so happy with our spontaneous decision to relocate that we'd do it all over again, in a heartbeat.
Apartment Therapy Survey:
Our Style: Casually stylish, inviting, and functional. Everything holds a story, from the vintage rugs and blankets to our morning coffee and tea mugs.
Inspiration: Much of our inspiration has come from the A-frame's architecture and the nature outside our front door. Since we are guilty of being slightly reclusive, it is important our home feels cozy and laid back.
Favorite Element: From the treehouse-like views to the wraparound deck, our favorite element is our home's close connection with the outdoors.
Biggest Challenge: Giving up the convenience of city living in the heart of San Francisco. We could walk to neighborhood restaurants, grocery stores, shops, and our friends were just minutes away. Now, we live on a winding mountain road that takes 10 minutes just to get to the bottom. The closest city with restaurants and grocery stores is a half-hour drive. Running errands requires deliberate planning and most meals are cooked at home. There is a rhythm to the mundane we've grown to love and appreciate.
What Friends Say: "How did you find this place?!" (Answer: I looked on Google Maps satellite view to find towns filled with trees and then searched that area for rentals on Zillow).
Biggest Embarrassment: The wall-to-wall carpeting. Although, we mind it less on chilly winter mornings. Yes, it does actually get cold in California!
Proudest DIY: Does putting together Ikea furniture count?
Biggest Indulgence: Our garden! It was an investment since we started from scratch but it made such a difference to the atmosphere of the space. We were able to offset the cost of the plants by sourcing affordable outdoor furniture from Wayfair, flea markets, and outlet stores during the off-season when seasonal decor is heavily discounted.
Best Advice: Just do it! Move if you want to move. It's might be an enormous pain but it's well worth it when you find somewhere that feels like home. It's also a great way to assess your worldly possessions by determining what is important enough to pack, lift, move, and unpack over and over again.
Dream Sources: Max wants an Eames lounge chair and I want a container to fill and ship back from the south of France.