A Funky, "Southwestern Bohemian" Home in Austin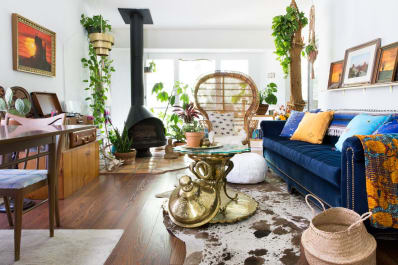 (Image credit: Submitted by Micaela)
Name: Micaela
Location: Bouldin Creek —Austin, Texas
I am a Texan through and through, more importantly: a true Austinite. I was born and raised in Austin, TX and can't bring myself to leave. I absolutely love the city and the energy it exudes.
(Image credit: Submitted by Micaela)
I have lived in my current 620 square foot apartment in the central neighborhood of Bouldin Creek for about three years. I love the place; the outsides of the buildings look like 1970s log cabins and all of the windows in my unit face trees. I share my apartment with my sweet rescue pug, June Carter Cash. I very fortunately come from a family of antiquers and treasure hunters. My grandmother and mother both love to antique, decorate, and style spaces. This was passed on to me at an early age. Although we have very different styles (grandma is shabby chic and mom is Wabi-Sabi), we somehow all come together and collaborate.
(Image credit: Submitted by Micaela)
I would describe my aesthetic as Southwestern bohemian. I am very inspired by the desert landscape: cacti, canyons, and the colors of the desert earth. I love to incorporate plants and succulents into my home, along with layers of worldly textiles. I'm inspired by Moroccan, Indian, and South American cultures. I use a lot of natural wood elements, crystals, metallic pieces, and plush textures throughout my home. My personal style resembles my home style in some ways. I have three styles of dressing: minimalist and mod, 90s prep, and 70s cowgirl. My home most closely resembles my cowgirl look, denim on denim, lots of turquoise and snakeskin boots.
(Image credit: Submitted by Micaela)
My favorite space in my home is my living room. All of my dearest pieces are in that room. Also, the fireplace is killer!! It was definitely the selling point for me. I'm in love with my Henredon navy velvet sofa, the cactus silk pillows, peacock chair, and my grandmother's desert paintings. My most prized treasure was gifted to me by my grandma. It is my Turkish fire pit turned coffee table. She fell in love with it when she was visiting and had it shipped from Turkey in the 80s. She decided it would be most functional in her home as a coffee table and thus had a piece of glass cut to fit the top. It is a solid-brass showstopper and I'm so lucky to have it. I am inspired by a plethora of things: my grandma, my mom, my friends, Marfa, TX, natural elements (wood, crystals, plants, flowers, etc.).
(Image credit: Submitted by Micaela)
Mostly I'm inspired by the landscape of the desert and the cultures of India and Asia. Give me a kantha quilt, mud cloth pillow, big cactus, incense, a painting of the Grand Canyon and I'm one happy girl! I love that my home is my sanctuary. I live a very fast-paced life working in the marketing and interior design industry, so when I come home I want to feel comforted. I throw off my shoes, pour a glass of wine, put on a Willie Nelson record and I'm home.
Thanks, Micaela!
• Interested in sharing your home with Apartment Therapy? Contact the editors through our House Tour & House Call Submission Form.