There's More Color in This Modern 360-Square-Foot London Flat Than Most Homes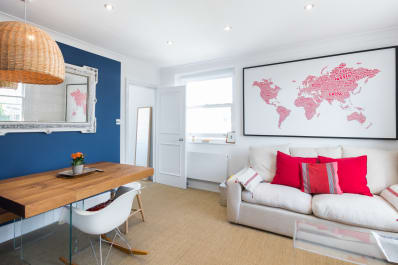 (Image credit: Elina Pasok)
Name: Sally Averill
Location: Notting Hill, London
Size: 360 square feet
Years lived in: 2 years, owned
After putting in a few failed offers on flats in the Notting Hill area of London, Sally discovered this mini and modern home and knew it was love at first sight. "I've lived in Spain, France, Italy, Switzerland and Australia — I love the light and knew I wanted somewhere full of light but also bold colours. It's so small so I've tried to avoid clutter whilst adding bits and pieces I've collected from all the places I've lived and worked." It's beautiful how Sally has been able to decorate such a tiny home, but even more amazing is how she's defied the "all-white" vibes many minimal homes have. This space has bold color splashed on big surfaces in every room...pretty impressive in only 360 square feet!
(Image credit: Elina Pasok)
On her favorite element in her home: "The whole flat almost opens out into one room, which means it's so light and airy even when the weather is bad (which is pretty normal in London).
(Image credit: Submitted by Sally Averill)
Having said that, the walk-in closet with pink Barnaby-Gates pineapple wallpaper and floor-to-ceiling shoe storage is pretty special...I love it! But maybe the terrace is my favourite part of the flat. It's so unusual in London to have a terrace which isn't overlooked so it's amazing for barbeques, and I love doing outdoor cinema on the roof in the summer or sitting under the striped awning to read the papers even in the rain."
(Image credit: Elina Pasok)
"I'm lucky to have been able to do most of the changes I wanted when I renovated the flat, some of which came about purely by luck. The walk-in closet and much bigger shower only happened because the builder couldn't move the boiler, so we had to change the configuration. It's so amazing to have a walk-in closet in such a small place."
(Image credit: Elina Pasok)
"The last things I bought were two blue glass antique apothecary bottles, which I found in a French flea market. They sit on the super modern glass desk, which is from the Conran shop."
(Image credit: Elina Pasok)
"Be bold with colour and go for what you really love. I knew that I wanted strong colours to give it some character and a place that I loved staying in to celebrate JOMO — the Joy of Missing Out!"
Thanks, Sally Averill!
• Interested in sharing your home with Apartment Therapy? Contact the editors through our House Tour & House Call Submission Form.