A Silver Lake Pad Full of Clean Lines and Natural Light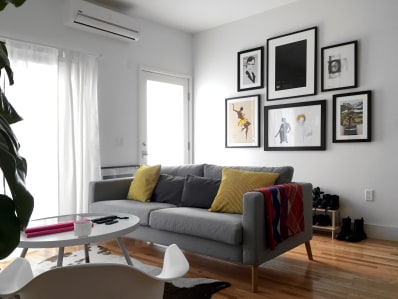 (Image credit: Submitted by Johan)
Name: Johan & Jose
Location: Silver Lake —Los Angeles, California
We are Jose and Johan from Los Angeles. We recently moved to a newly renovated rental in Silver Lake, one of LA's busiest and most eclectic neighborhoods. We've always loved this part of town, and it's a convenient location for both of us as it's close to our respective jobs. We love the space for its openness. The 500 square foot one-bedroom feels spacious thanks to the abundant natural light.
(Image credit: Submitted by Johan)
(Image credit: Submitted by Johan)
We want to keep things minimal as there isn't a lot of space, but practical and cozy at the same time. Our favorite elements are the fiddle leaf fig tree and the gallery wall. The artwork displayed combines our seemingly unrelated interests —fashion, sci-fi, UI/UX design, typography— but somehow complements each other. The prints and the tree also help define the space. We chose a simple and natural color palette that's somewhere between muted and vibrant. The furnishings throughout the apartment are minimalist with clean lines and a mid-century modern flair.
(Image credit: Submitted by Johan)
(Image credit: Submitted by Johan)
We had an extremely limited budget so it was quite a challenge to find pieces that we liked and could actually afford. On top of that, we had very little to start with as we got rid of a lot of things prior to the move. Online retailers such as Overstock, Craigslist and Amazon were definitely our bargain hunt go-tos, in addition to deals from West Elm and Crate & Barrel. We also made countless trips to IKEA to procure items that aren't too distinctly IKEA (our Karlstad sofa was an unmistakably IKEA couch until we swapped out the legs).
(Image credit: Submitted by Johan)
One thing still missing is a dog. We can't wait to add a blue heeler named Skrimp to the mix!
Thanks, Johan & Jose!
• Interested in sharing your home with Apartment Therapy? Contact the editors through our House Tour & House Call Submission Form.