A "Tactile and Cozy" Updated Victorian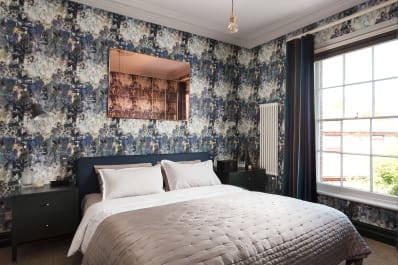 (Image credit: Submitted by Anna)
Name: Anna
Location: Tonbridge —Kent, United Kingdom
We bought our home four years ago and since then have spent ages totally remodeling it, taking it from dated and chintzy to colourful and modern!
(Image credit: Submitted by Anna)
The overall building is Victorian and was converted in the 1970s from one large house into a well proportioned front half and a higgledy piggledy back half (which used to be the servants quarters) and which become our home. We bought it from an elderly couple and everything was pink and green, outdated and on its last legs. But we fell in love with the high ceilings, windows and garden and decided to take it on and make it ours!
(Image credit: Submitted by Anna)
Over a year we remodeled the whole of the inside — moving stairs, the bathrooms and practically every wall to create a three bedroom house where every space works. Before two of the rooms had doors that could only open outwards and a huge hallway and entrance hall sucked the space out of the downstairs. We removed ugly half height UPVC doors and added full height wooden doors to maximize the light and link to the garden. The house is listed so we were limited in terms as to what we could do and had a lengthy battle with the local council to move the stairs, but thankfully it all worked out in the end.
(Image credit: Submitted by Anna)
The house lacked original features so we added in the new feature coving and worked to restore the skirting boards with those that were typically of its original age (1890s). Similarly, we modeled our new staircase on that found in the front side of the building, so that the bones of the house were very much in line with how it was originally.
Then we went modern! Mixing in strong colors, patterns and textures to make the space ours. As an interior designer I really love color – with teal and pink being my real favorites – so I went to town with them! I love a mixed and eclectic look, so lots of things have been upcycled or salvaged – the sofa used to be cream linen and we inherited it from my Dad and reupholstered it in this floral and teal mix. All of the living room furniture has been 'found' – the gold palm tree came to us from the US via salvage fair and the armchair we found bumbling around antiques shops in Hastings after a Sunday lunch. I like things that are a little glam, so the mix of gold and metallics in the scheme just gives it a little edge and is gorgeous at night when the curtains and drawn and a few candles lit.
(Image credit: Submitted by Anna)
I'm a big one for texture so everything is very tactile and cozy. We love having people over and find that the kitchen island tends to become party central! With all the lights off and our pink neon shining in the corner, it's awesome for a few cocktails!
Thanks, Anna!
• Interested in sharing your home with Apartment Therapy? Contact the editors through our House Tour & House Call Submission Form.