A Sunny Micro Studio in Georgia
We independently select these products—if you buy from one of our links, we may earn a commission. All prices were accurate at the time of publishing.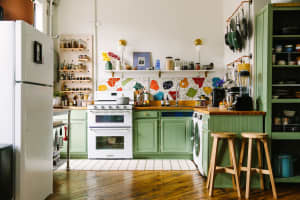 Can't-Miss House Tours Straight to Your Inbox
Keep up with our latest house tours each weekday with our House Tour of the Day newsletter
Name: Kelly Jackson
Location: Atlanta, Georgia
Size: 300 square feet
"We bought this Eastlake-style Victorian home almost a year ago, right after we had a newborn baby (our second child, daughter Lucy)," writes Kelly Jackson. "The whole house needed major renovations, but my husband, who is a realtor, convinced me that despite this being the WORST time ever to take on a major reno and uproot our whole family, that this was an amazing investment. I listened (begrudgingly) as he convinced me that we could convert the back of the home into two rental units/Airbnbs that could also function as MIL's when our family was in town."
"This would pay our mortgage, provide savings for our kids and could always be reclaimed as part of the house when we didn't need it anymore. I wasn't sold until I walked into the home and saw the Victorian staircase that I had always dreamed about having. And here we are. This tiny, tiny unit was previously the dirt basement underneath what was previously the servants' quarters of this 120-year-old home. I wanted to keep it as light and bright as possible, dig out a full bathroom to make a little luxurious space that is cozy, but comfortable to stay in. I added white shiplap, herringbone tile and loads of tiny details to hopefully make this space unique. There is also the original fireplace stack (an exposed brick wall) in the bathroom."
What's the last thing you bought (or found!) for your home? We love the abstract painting we found at Highland Row Antiques here in Atlanta. This is the BEST little antique store. Many people write it off because they look at the front and it appears very small. What they don't know is it has a gigantic basement where all the real goods are. We have gotten almost every beautiful piece of furniture (from sideboards to vintage curio cabinets) at this store.
The dresser you see in the bathroom was actually found in the dirt basement/crawl space and converted into a vanity. A little homage to the house. The house itself was built in 1890, for Thomas Buchanan who was Warden of the Fourth Ward of Atlanta at the time; Claude Buchanan, his son was interim mayor of Atlanta for awhile. We have a friend who specializes in researching home histories and we have SO many wonderful articles about the house, which include everything from weddings to funerals."
"This home is surrounded by other Victorian homes in a beautiful part of Grant Park, which is quickly becoming one of the most vibrant places in Atlanta thanks to the carefully curated developments happening on Memorial Drive. Grant Park has the feeling of a historic little neighborhood, while being right in the heart of the city of Atlanta. It's also just a few steps away from historic Oakland Cemetery, the most famous cemetery for Victorian architecture. A small note on that cemetery is that the entire family who built this home is all buried there! One of the most beautiful places to stroll with a coffee from Octane (also just two blocks away). Dine at famous Six Feet Under. Our little family includes myself, a marketer who moonlights in interior design. My husband, a local small business owner (Park Realty) and realtor, my four-year-old son Dylan, our one-year-old daughter Lucy and our Bassador with a very distinguished beard (Walter)."