A Couple Puts a Home Together With the Help of Some Craigslist Kismet
We independently select these products—if you buy from one of our links, we may earn a commission. All prices were accurate at the time of publishing.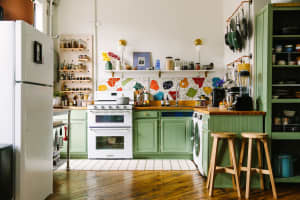 Can't-Miss House Tours Straight to Your Inbox
Keep up with our latest house tours each weekday with our House Tour of the Day newsletter
Name: Alannah and Alex
Location: Vancouver, British Colombia
The basics: Two years, rented — 700 square feet
Alannah and Alex moved to Vancouver and set about making their apartment a home. With a limited budget, they scoured Craigslist and thrift stores, finding individual pieces they loved and blending them together into one cozy home.
Tell us a little (or a lot) about your home and the people who live there: My partner Alex and I moved to Vancouver from Toronto two years ago so that I could go to school at The University of British Columbia. A few hours after we landed in Vancouver we went to a viewing of a corner apartment in a three-story red brick walk-up in the West End of downtown Vancouver and immediately fell in love. Two days later, we got a message saying it was ours.
Making ourselves at home in this beautiful space has been a really enjoyable joint project. We spent our first summer here scouring Craigslist, thrift stores, and local vintage shops for furniture and decor on a tight budget. I'm a full-time student and Alex works in retail, so we really have to be careful with money; our rent is where most of our income goes, but we're huge homebodies and we love our apartment so it feels worth it to us. We love the hardwood floors, hot-water radiators, and the single-hung windows in each room. The space feels really open and the layout is very conducive to actually living in the space.
I've never made a conscious effort to define our style. I think a lot of the pieces that we like are from the first half of the 20th century, maybe art deco rather than mid century modern, but we also like mixing in more industrial elements. And I really gravitate toward anything floral. We also tend to use things for something other than their intended purpose – steamer trunk coffee table, metal bucket laundry hampers, filing cabinet bedside table… But most importantly, it has to be budget-friendly, so almost everything in our apartment has had a home before ours.
This apartment is special to us because it's the first place we've really put down roots together. The few apartments we lived in together before this one were fairly temporary situations, so it was exciting for us to really make this apartment our first 'home'.
What is your favorite room and why? Alannah: I really do love our entire apartment, but I think it's the bedroom that I gravitate towards. The bedroom gets tons of light throughout the entire day – in the evening there's always very warm yellow light streaming through the windows. I love to look at the Vogue postcards as I'm trying to fall asleep or when I'm lying in bed after I've woken up. And the bedroom has a very peaceful vibe with pastel colors and floral patterns. Every day that I wake up, I look around the room and think about how happy I am that this is the place we call home.
Alex: I don't like to pick favorites, but I do love the reading nook in the living room with the crate shelf and the floral tub chair. The various textiles make it feel very warm and lived in, and I like how it's a defined area within a larger space.
If you could magically change something about your home, what would it be? Alannah: I would love an in-suite washer/dryer, or at least hookups! I absolutely hate doing laundry, and dragging our stuff to the laundromat only makes it more difficult to get up the motivation.
Alex: I would really appreciate a deep stand-alone tub in the bathroom. I think a claw-foot tub would also better fit our design aesthetic, as opposed to the modern bathroom renovation that we have now.
What's the last thing you bought (or found!) for your home? Technically, the last thing we bought for the apartment was a two-drawer night stand that we put in our bedroom closet because we needed a few more drawers. But the last interesting thing we found for the apartment was actually the seat cushion on the orange floral tub chair. The chair itself was off of Craigslist, and when we went to pick it up the seller couldn't find the seat cushion, so he let us take the chair for free. I loved the floral pattern so much, so we brought it home and mulled over possible solutions for replacing the seat cushion. A month later Alex was looking on Craigslist in the 'free stuff' section and by a crazy stroke of luck, there was a post for extra couch cushions with THE EXACT SAME FABRIC. Needless to say, that was a happy day.
Which fictional character would be most at home in your place? I think maybe Ms. Honey from Matilda. I was trying to think of someone who would spend a fair bit of time at home, so their space would feel personal and lived in. They would have to love floral fabrics and old furniture, but not be opposed to milk and apple crate storage solutions. I feel like Ms. Honey would be a 'work with what you can find to make a place that you love' kind of homemaker, which definitely jives with us.
Any advice for creating a home you love? Alannah: Don't box your design sense in with a strict 'theme' or 'look'. When I was as younger I would pass up pieces that I loved because I didn't think they 'fit' with a certain look I was trying to achieve, and that never feels good. Now I just buy the things that I fall in love with and find a way to make them work – then you end up with an apartment full of things that you love, and that in itself is a 'look'.
Alex: Make sure that each piece of furniture and space in your home has a purpose and actually gets used. Homes that look beautiful are nice, but homes that looks beautiful and can be lived in are better.
Thanks, Alannah and Alex!