A Virginia Home Full of Pretty Patterns, Plenty of Plants and Travel Treasures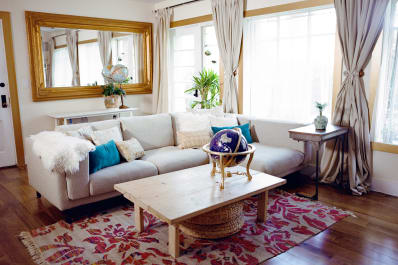 (Image credit: Submitted by Audra)
Name: Audra
Location: Parkfairfax — Alexandria, Virginia
Our 900 square foot condo is located in Parkfairfax, one of the greenest residential areas in the DC metropolitan area. Built in the 1940s, it has plenty of little quirks that you can expect to find in an older home, but we love how it's built with solid materials like sturdily laid brick and solid woods. Although it can be tricky to find replacement parts when things break, it definitely has lots of charm, and we can't imagine living anywhere else!
(Image credit: Submitted by Audra)
When we first moved in, we decided to create a blend of our travel treasures, small design pieces and vintage finds, to help us feel at home as soon as possible. Two large iron casement windows allow plenty of beautiful natural light during the day. These windows, which were part of the original design, are such a cool and unique historical feature! Inspired by travel and our backgrounds (my husband is Dutch/Indonesian), we wanted our space to feel like us. As you can see, he has quite the obsession with maps and globes!
(Image credit: Submitted by Audra)
Our first project was exposing the original brick underneath our bedroom wall. Since the building was constructed using lath and plaster 'wet wall', it was a very messy process! As soon as the dust from exposing the brick wall settled, we painted the apartment a simple cream with a gold trim throughout. It felt like a bold move to go with gold, but I think it provides that extra bit of chic I was hoping for. To avoid having to spend hundreds of dollars on a long curtain rod for the living room space, I found this amazing DIY tip online to construct one from PVC connecting pieces. I painted it with an 'oil bronzed' Rust-Oleum spray paint, that fits in perfectly with the original door knobs and fixtures of the apartment, and it also gives the space a much larger feel.
(Image credit: Submitted by Audra)
The previous owner made several updates to the apartment, including an open kitchen that I love. I love greenery and you can ever have enough plants, so we quickly installed the bar in the kitchen window where we can hang several pots. One of the latest projects we tackled is probably also one of my favorites; after a long search for the right print, we decided on this fern patterned wallpaper that we hung on the kitchen the ceiling!
(Image credit: Submitted by Audra)
The backyard is our favorite place to relax and hang out with friends any time the weather allows us to. Our pup Garcia loves exploring, and it's been so fun to have an herb garden of our own for cooking some of our favorite meals!
Thanks, Audra!
• Interested in sharing your home with Apartment Therapy? Contact the editors through our House Tour & House Call Submission Form.