A Warm & Personal Apartment on a Man-Made Island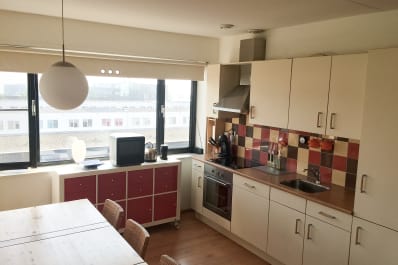 (Image credit: Submitted by Farida)
Name: Farida
Location: IJburg — Amsterdam, Netherlands
I live on the man-made island of IJburg, developed on reclaimed land in the former lake IJmeer. There is one bridge connecting IJburg to the rest of Amsterdam. The first residents moved to the neighborhood in 2002. I moved here in 2005, to a newly built apartment (900 square feet).
(Image credit: Submitted by Farida)
(Image credit: Submitted by Farida)
I love living here because of the modern architecture, proximity to the lake and back in 2005 it was affordable to buy an apartment. IJburg feels like a vacation island, especially in the summer, with the lake, small harbor and the "city beach Blijburg." Since I was in a newly built apartment I could start decorating with a blank canvas. I find inspiration in Scandinavian design; I like uncluttered, simple clean lines and light colors with a dash of bright items (red IKEA Kallax in the kitchen). I usually don't DIY, but am very good at assembling things. I'm proud to say that almost everything in my apartment I assembled myself.
(Image credit: Submitted by Farida)
(Image credit: Submitted by Farida)
My favorite room is the open plan living room, which includes the kitchen. It's very light thanks to four big windows. The terrace is adjacent, which on long summer days, makes it an extension of the living room. After living here for 11 years, I can finally say my apartment has truly become a place to fit my personality.
Thanks, Farida!
• Interested in sharing your home with Apartment Therapy? Contact the editors through our House Tour & House Call Submission Form.