A Whimsical West Hollywood Home
We independently select these products—if you buy from one of our links, we may earn a commission. All prices were accurate at the time of publishing.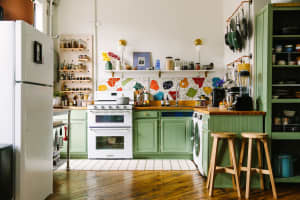 Can't-Miss House Tours Straight to Your Inbox
Keep up with our latest house tours each weekday with our House Tour of the Day newsletter
Name: Will, Florent and Dolly, a Mini Holland Lop bunny
Location: West Hollywood, California
The basics: 10 months renting
Will and Florent's Hollywood abode is full of small, unexpected moments of delight (spot the bunny!) and fantastic found pieces that give the space a welcoming feel.
Tell us a little (or a lot) about your home and the people who live there: I live here with my boyfriend, Florent, and our Mini Holland Lop bunny, Dolly. When we were searching for places to live we both sort of had (completely) different ideas of what we wanted. He wanted something new and bright and modern and I wanted something old and dark with character. We looked at dozens of places and it was like Goldilocks – this one is too modern, this one is too old, this one is too bright, this one is too dark, etc. Everything was "too" something.
When we saw this place, we both looked at each other and were like, "This is it. This is the one." It has the perfect mix of what we both wanted. The kitchen has updated appliances, the bathroom is completely redone, and the whole place is really bright. But at the same time the structure itself has so much character. Original hardwood floors, a red bricked building, a cute red door, a little makeshift balcony. I love that it doesn't look like a cookie cutter apartment. It has its own personality.
As far as style goes, I wanted to create an environment that blends together bits of where we're from and where we live now. I'm from Texas, Florent is from France, and Dolly is from Craigslist, so we all have different styles and tastes. I have a few antlers scattered around and some antique country inspired pieces like chickens and cotton stems to bring in a little bit of Texas flavor mixed with some French items like his mom's old spice jars and some vintage French books. We also have a few bunny themed pieces hidden around the place to make Dolly feel at home. Mixed into all of that is the California style with things like a bowl of sea shells I collected from Malibu, an octopus pillow, and a few anchors.
What is your favorite room and why? I love hosting friends at my house, so my favorite room is definitely the living room. I used to be opposed to having a TV in the living room because it's the LIVING room – it's for socializing and living. But then I got bored of sitting and reading the same magazines over and over again so we got a TV.
I also love the living room because it holds all of my favorite items. The mantel is my absolute favorite piece. I found it on the curb after getting lost in the hills of Echo Park one day. I was with my old roommate at the time and we went down the wrong street and we saw this mantel just laying there. We both screamed and pulled the car over immediately. It's traveled with me to all my apartments since. Unfortunately, I don't think it will make it through another move because its leg is broken so I guess I'm just never moving again.
What's the last thing you bought (or found!) for your home? I went to a garage sale and found a Monet painting. It's not a real one, obviously, but I think it's a museum copy or something? I don't know. It has a name plate at the bottom and it's in a nice frame. I put it above the mantel and it just fits so perfectly and is really a conversation starter. My favorite things to buy for our home are paintings and photographs. Florent always hates the art that I buy so I tell him to just close his eyes and get over it. Art has a way of bringing people together like that.
Which fictional character would be most at home in your place? I like to think there are a lot of magical aspects to my place. I grew up on the Harry Potter books and they played a major role in shaping me into the person I am today, so I have a lot of little reminders of the whole Harry Potter universe around my place. I have some potion bottles on the bookshelf, some skulls scattered around, Honeydukes candy jars on my kitchen counter, some scrolls in an old trunks and a lot of old portraits you would find in the halls of Hogwarts. That being said, I think maybe Albus Dumbledore or Luna Lovegood would like my place. It's a good blend of magic, whimsy, different cultures and elegance.
Will's words of advice: There are the basics that everyone should know but as far as style goes: do you. It's YOUR home, so it should reflect your personality. Don't copy and paste your ENTIRE home from Pinterest or IKEA because that's what everyone else is doing. It's fine to get a few items and ideas from these places, but if you really want something that's unique you need to go to garage sales and flea markets to find objects that speak to you and fill your home with them. It's important to understand that your home and style should grow alongside you. A well-decorated home is a reflection of who you are, not just in that moment, but next month and the month after that and so on. It should always be changing to keep up with you because the home is a living, breathing character in your life that you should feel happy with. It's a relationship. That's not something you can find on page 32 of the IKEA catalog.