The Most Colorful Rental-Friendly Apartment Renovation
We
independently
select these products—if you buy from one of our links, we may earn a commission. All prices were accurate at the time of publishing.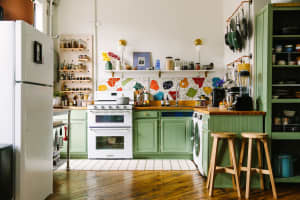 Can't-Miss House Tours Straight to Your Inbox
Keep up with our latest house tours each weekday with our House Tour of the Day newsletter
Name: Cortney Moore and Tyler Moore
Location: Studio City Neighborhood — Los Angeles, California
Size: 800 square feet
Years lived in: 1 year, renting
Since getting married back in 2011, we've moved at least once a year. We hopped around Nashville for a few years before moving out to Los Angeles, and have moved twice since we've been here. We both love to go out and be social, but we cherish our time at home as well. I'd say we're both about 50/50 on the extrovert/introvert scale, so that "at home" time to relax, reconnect, and recharge is 100 percent necessary. And we've always kind of been in search of that feeling of "sanctuary" when it came to our home, and it's been hard to find, as we've always been renters.
We used to think that feeling would come when we purchased a home, but in the last few years (especially since moving to L.A.), we've realized that that's not a priority for us right now. But we weren't willing to wait on feeling truly at home anymore. So, this last time when we were ready to move, we decided to look at it differently. Yes, we were still renting, but we were looking for a place we could make our home. We found a privately owned apartment in the Studio City neighborhood via Craigslist (I know, of all places!), met with the couple, and immediately knew it had potential. We took it and have been working to make it "ours" ever since.
Truly at heart, I think we're homebodies. With this new place, we love hosting people in our home. We're both big into cooking, baking, and trying out new cocktail recipes! We both work from home, so having a place that inspires creativity as well as relaxation is an absolute must. Renting or not, this place is ours now, and the work we put in to get it there was totally worth it.
Apartment Therapy Survey:
Our Style: I'd say our style is a mix of bohemian and mid-century modern.
Inspiration: Justina Blakeney (@justinablakeney), Krys Melo (@melodrama), Elsie Larson (@elsielarson or @abeautifulmess), Kelly Mindell (@studiodiy). I could list home inspiration forever, as interior design is just something that's always intrigued me, but these gals were the biggest sources of inspiration for this project.
Favorite Element: This is probably a tie between our record station or our new pastel colored kitchen! Because those are probably equally big parts of our lives, and coexist a lot of the time. My husband is in the music industry. It's what originally brought us to Los Angeles, so to say music is a big part of our lives would be an understatement. Dance parties happen on the reg, and finally having a place to keep all of our prized records organized and at the ready versus packed away under our bed is just fabulous. (The record station is the palm print credenza from Overstock that you will see in the photos).
As far as the kitchen, as I mentioned before, we both love to cook. We take Sundays as a day together and a lot of the time it's us spending it together in the kitchen, trying out a new recipe. And I feel so much more inspired to be creative and try new things now that I feel like my kitchen reflects me more as a person. Bright, happy, open, versus dark and closed off as it was before the redo. And a lot of the times when we're in the kitchen, we're simultaneously dancing around with our pup to one of our favorite records. So these two areas kind of fit together in my mind.
Biggest Challenge: Doing all of our projects rental and budget friendly. We wanted this place to feel like home, but the reality is, we are still renting. One day (hopefully not anytime soon) we will move out, so we wanted to be responsible with our spending in this upgrade. We also want to get our security deposit back at the end of it all, so we had to make sure everything was done according to the rules. Paint had to be a certain kind, wallpaper only temporary, lots of very careful drilling. And my biggest tip on this would be to ask permission.
I think we majorly lucked out finding a privately owned apartment instead of one owned by a large agency, because it's easy for me to text our landlord, ask her about the project I'm thinking of doing, and get a response of either approval or denial. But ultimately, if it's not something your landlord is going to be happy with, it's probably not worth doing, as it'll cost you more in the long run. However, whenever we presented the idea of a project, we usually offered up a few suggestions as to how we would make it rental friendly, and she agreed to almost all of them!
Proudest DIY: I'll be honest, I'm not a huge DIY-er. I love to decorate, but actual crafting projects aren't really my thing. I think I'm proudest of the bedroom though. It was so drab and bare before, and I think the elements of color and texture that we brought into it just really brought it to life!
Biggest Indulgence: Definitely our mid-century, brightly colored Joybird Sofa. And it was 100 percent worth it.
Best Advice: Take time doing lots of research before jumping into a project. Don't make hasty design decisions and really hone your inspiration. As far as DIYs, see how other people have done it. Weigh out the pros and the cons, especially if you're renting. But mostly, chase after that feeling of making a space yours. Your safe haven, your creative space, your sanctuary. Don't just follow what's trendy at the moment, follow what's going to make you happy for the longest amount of time.
PAINT & COLORS
Kitchen Cabinets — Dunn Edwards Island Oasis
Walls — Dunn Edwards Swiss Coffee
Thanks, Cortney and Tyler!