8 Things a Chef Wants You to Add to Your Kitchen in 2022
We independently select these products—if you buy from one of our links, we may earn a commission. All prices were accurate at the time of publishing.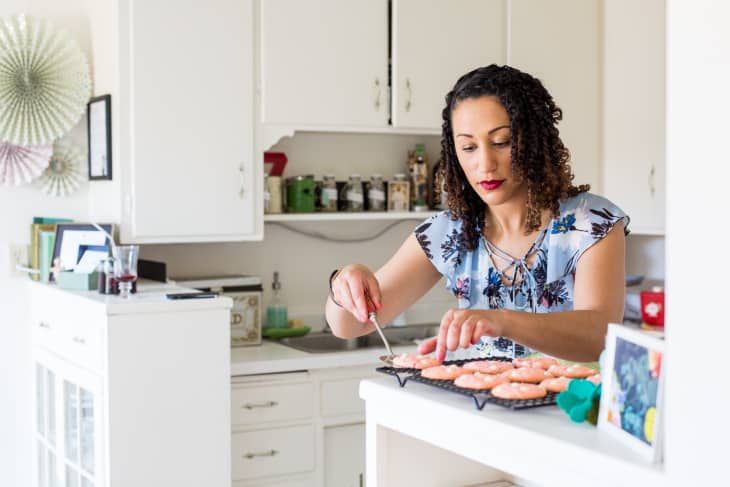 Your kitchen plays a lot of important roles in your home and in your life. On top of prepping and cooking all your meals, you probably also spend plenty of time organizing, cleaning, and even gathering with loved ones in your kitchen. To make life in your kitchen more efficient — and just as importantly, more enjoyable — consider making a few simple tweaks to your tools and routines this coming year. 
Follow Topics for more like this
Follow for more stories like this
From tools that make preparing food easier to mindsets that stave off stress, Carla Contreras — a professionally trained chef, food stylist, and health coach — has eight amazing suggestions for what we should all be adding to our kitchens in 2022. 
Next year, Contreras says, is about getting back to the basics and maintaining the kitchen equipment you have. Start with your kitchen knives. "In my opinion, you only need three knives: chef, paring, and a serrated option," she says. To complete your collection, she suggests a pair of kitchen shears and a knife sharpener — plus, a sturdy cutting board that can withstand all that chopping and dicing. 
Think back to life in the kitchen during 2021, and call to mind any barriers that stood between you and a pleasurable cooking experience. Did you find yourself wishing you had a better peeler, a can opener that's not full of rust, or a salad spinner to easily wash your veggies? Is your blender on its last leg? Whatever comes to mind, make a plan to add that to your kitchen this next year. "Think about what would make your cooking easier and also give you more pleasure to cook with," says Contreras. 
Waste-free storage options 
Even small tweaks, like shifting to plastic-free, waste-free storage, can make a major impact on the environment. If you're resolved to consume more mindfully at home, Contreras suggests a few simple changes. Swap out your plastic baggies for reusable silicone bags, your plastic wrap or foil for beeswax wrappers, and use old mason jars or glass-lock containers instead of buying new plastic food storage. 
You can also easily create less food waste by labeling and dating your food whenever you put leftovers or make-ahead meals in the fridge or freezer. "This is something that is done in the professional kitchen to keep cooks organized," says Contreras. "At home, it can be useful when you can't remember what day you cooked the soup." You can, of course, invest in a fancy label maker, but the system can be as simple as you want it to be—try using plain blue painter's tape and a black marker. Contreras keeps small pieces of tape on the side of her fridge so she remembers to keep up the habit!
As long as we're on the topic of sustainability, why not finally make the jump and start composting in 2022? Don't worry; it's likely not as complicated (or as gross) as you think. All you'll need is a basic countertop compost bin for scraps, coffee grounds, eggshells, and more — plus a system for backyard composting or a pick-up service in your area — to decrease buildup in landfills. 
Having fun in the kitchen isn't just about great recipes and reliable tools — your space should also be enjoyable to look at. If new small appliances, plates, or cooking utensils are on your to-buy list, choose colors and designs that make you feel happy to spend time in your kitchen — even if it's not "traditional" or on-trend. 
If you're in the market for new appliances, Contreras says smart stoves, dishwashers, refrigerators, microwaves, and even countertop appliances like coffeemakers and toasters can make life feel a whole lot easier. Many smart appliances can pair with your phone (imagine starting your coffee from an app in bed!) and some even have voice functionality. 
Time in the kitchen can feel stressful, especially if your schedule is full. Bringing ancient practices like meditation into the kitchen can create more ease and presence when you're feeling flustered, and in the long run, make all that meal planning, cooking, and meal-sharing far more enjoyable. To help, Contreras created a free meditation album to guide you through essential kitchen tasks like food shopping, cooking, and cleaning. Here's to more joy and presence in 2022!