This Home Addition Will Help You Sell Your Home for 35 Percent Higher
We
independently
select these products—if you buy from one of our links, we may earn a commission. All prices were accurate at the time of publishing.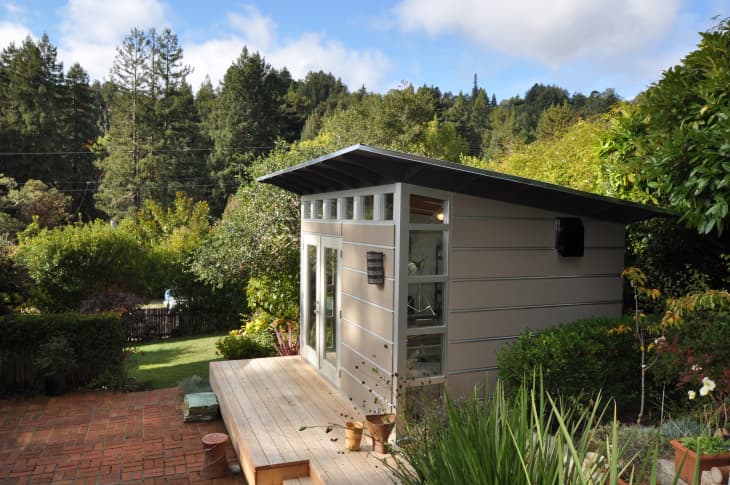 When it comes to pandemic housing trends, 2020 and 2021 became the years of Accessory Dwelling Units. These free-standing, flexible spaces sprung up in backyards across the country, providing extra square footage for new WFH arrangements, as well as distance learning solutions, multigenerational living possibilities, and so much more. 
So, it's no surprise ADUs became one of COVID-19's most popular additions. But it turns out these structures also add a whole lot of value to homes, according to a new study from home services platform Porch.com that explores the current state of the ADU housing market. In America's biggest cities, a home with an ADU is priced a whopping 35 percent higher on average than a home without one, the study shows. 
An ADU significantly increases property values because it's the most flexible square footage you can add to your home, says Jeremy Nova, cofounder and creative director of Studio Shed, a maker of turnkey modern sheds and backyard studios. 
In addition to driving up your property value, ADUs can also be revenue generators, too, Nova says, because they're ideal for short-term and long-term rental units. The detached space provides privacy for both renters and homeowners.
ADUs can run the gamut. Some are custom-made backyard dwellings under 200 feet that serve as backyard offices or fitness studios. Other guesthouse-style ADUs are double that size and require plumbing and electrical permitting. According to Porch.com, there are an estimated 1.5 million ADUs in the United States, and they're growing at a rate of 9 percent (or around 100,000) per year. 
ADUs are also being looked to as an affordable housing solution. In California, for instance, entrepreneur Preston Rutherford is planning to install 1,000 new ADUs through a partnership with a Bay Area-based company called Abodu that can deliver a pre-fab ADU in less than 30 days. The ADUs will operate on a solar mini grid, with backup generators kicking in if there's a cloudy streak.
With everyone spending a lot more time at home the past 18 months, ADUs have emerged as a premium feature offering owners a lot of flexibility, says Rebecca Thomson, regional vice president of Coldwell Banker Realty in Chicago. 
"Quarantining in bubbles meant these spaces could be used for in-laws, empty nesters who found their kids moving back, friends and even those who needed a home base while Airbnb'ing their way across the globe," she says.
ADUs can have a direct impact on value because you're increasing your living space, which will increase the value of the overall property, says Amy Foote, a licensed real estate broker in Chicago with Compass. 
However, homeowners should be careful of two things when adding an ADU: zoning issues and an increase in property taxes, Foote says. 
"If you're considering adding an ADU, be sure to thoroughly research the zoning in the area to make sure an ADU is allowed," Foote says. "Additionally, keep in mind that any increase in market value will have a direct impact on your property taxes."