The Best Advice for Actually Finishing Your Weekend DIY Project, According to the Experts
We independently select these products—if you buy from one of our links, we may earn a commission. All prices were accurate at the time of publishing.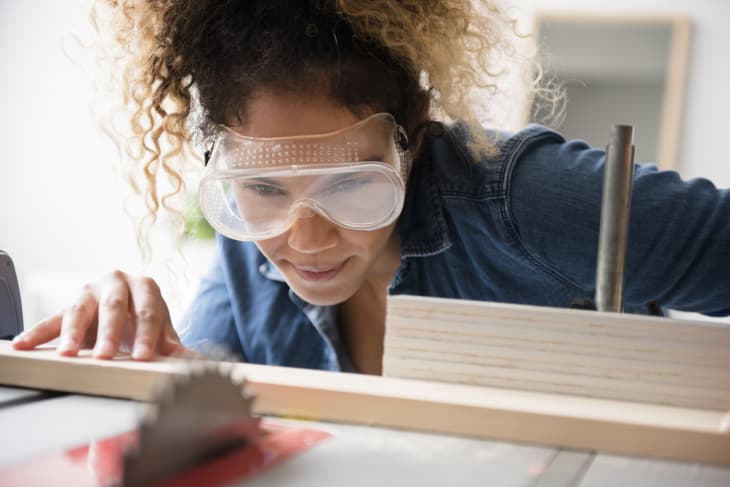 Scrolling through DIY Instagram is one of those things that's both incredibly satisfying and completely mind-boggling. Seeing before-and-afters gets you dreaming of what could be possible within your own home, until you consider the all-important question: When do they have the time?!
Follow Topics for more like this
Follow for more stories like this
There are the big-time DIY bloggers who secure sponsorships with every home improvement company under the sun and turn their craft into a career. They dedicate every waking hour to mastering molding and cultivating carpentry skills. But for every one of those unicorns, there are 100 other DIYers who are making it work and doing incredible, professional-grade projects, all while holding down a 9-to-5 job.
Apartment Therapy talked to five weekend DIY warriors who are tackling impressive projects both big and small about how to make it work on a mornings, nights, and weekends schedule. Here's the wisdom they shared.
Break big projects into small tasks and celebrate every win.
Leona Rosenblum and Garrett Berntsen are the couple behind The Olde Standard, an Instagram account dedicated to renovating their 1870s Italianate row house in Washington, D.C. They've tried their hand at everything from retiling, wallpapering, and adding molding to their vestibule to creating an interior transom — and they both work demanding Washington jobs by day.
The two former consultants use their work skills to focus on one DIY at a time and break projects down into small, digestible tasks. They knock out simpler items before or after work and, to keep the momentum up, they track their progress in Todoist and celebrate every win. 
"For big tasks like installing paneling or painting, we do those on weekends and prep the night before so we can wake up, drink coffee, and get started fast," Berntsen says. "Because we're new to DIY, we factor in the time to watch a bunch of videos to know what we're supposed to do next, the time for making mistakes, and the time for fixing our mistakes."
Berntsen adds, "Most importantly, we try not to get stressed if things aren't going quickly. This is our first time trying many of these projects, so we try to cut ourselves some slack and just keep doing our best."
Set goals and expectations, then reset as needed.
Callie Plemel, a lawyer, mom, and DIYer, runs Homeonharbor, where she chronicles the projects that make her Cleveland house a home. In the past year, she and her husband, Robert, who also has a busy full-time job, have installed hardwood floors, renovated their fireplace, remodeled their master bedroom, and created a built-in desk wall out of leftover IKEA bookshelves for their home office.
Again, both work full-time jobs.
How do they do it? Plemel says, "My advice is to live through a global pandemic and have nowhere else to be." She adds, "I'm somewhat joking, but not having other plans certainly helps to tackle projects. Almost all of our spare time has gone into our home."
The two have a toddler son, so they work after bedtime and during nap time, which means realistic expectations and deadlines are critical. She says, "It might take others a weekend to paint a room from start to finish; sometimes it takes us a few weeks. We set goals for ourselves from week to week, and reset them when we don't get everything quite done."
Despite resets and a sometimes-slower pace, Plemel says, "In the thick of it, it often feels like we're getting nowhere fast. But, when I look back on it, it's amazing to think we've accomplished so much!"
Consider how you actually need to use your home in the process.
Maryland-based Jackie Whisman works at a technology think tank by day and takes on DIY design projects by nights and weekends — not to mention stepping in as a homeschool teacher for the past year and launching her design firm, Jackie Whisman Interiors, in March 2020. To say she's skilled in time management is an understatement. 
How does she do it? Advance planning down to the hour. "I set alarms for when I need to start each next step," she says. She also considers how spaces within her home may need to be used during the process. 
Whisman says, "I try to do as much advance planning as possible, especially when I'm working on areas that I can't afford to leave unfinished, like a kitchen or bathroom. This could mean doing the project in phases. When I painted my kitchen counters, I knew I couldn't go without some counter space for the full week it takes for the epoxy to cure, so I did two-thirds of the counters one weekend, and saved the last bit for a few weeks later."
Schedule time and honor it.
Emily Bichard, a full-time teacher who restores furniture in her free time, gives us one key tip: "Lots of COFFEE!" She explains that she sees working on her DIY projects as a form of self-care. Just as she schedules and respects her time for her day job during the school day, she schedules and respects her time for DIY passion projects on nights and weekends. 
Bichard says, "I make sure that I set aside at least an hour or two a week for my hobby as a form of self-care. I actually write it on a schedule so I don't schedule anything else during that time. It's something I look forward to it, so finding the energy is never an issue — though the coffee helps! It's just making sure I allow myself the time."
Always be prepared to work when inspiration strikes.
A master of DIY in a small rental space, Liz Malm, a D.C.-based VP and head of marketing at a government affairs firm, takes a project-management-inspired, step-by-step approach to her frequent off-hours DIYs. But the real secret is in her preparation. As a city dweller without a car, she can't easily stop by Home Depot when she dreams up a new project. Instead, she has to plan ahead for success.
Malm says, "I always have a running list of things I'd like to get done around the house in the Notes app on my phone. If it's something that requires measurements or supplies, I include those in the list to make sure I'm prepared if I happen to find myself at the hardware store."
She also keeps extra supplies from small projects so that items can be repurposed and recycled for future projects. "There are times when inspiration strikes, and I knock out a full project because I happen to have what I need on hand. On a recent Sunday evening, I decided I wanted to paint an arch in my entryway and mount a sconce. I got it done in a few hours — but I had all the paint and other supplies, like a laser level and painter's tape, on hand from previous projects. Keeping your 'leftovers' can make it easier and cheaper to tackle future projects."