This $20 Solution Let Me Channel the Dream of Line-Drying My Sheets in Fresh Air
We independently select these products—if you buy from one of our links, we may earn a commission. All prices were accurate at the time of publishing.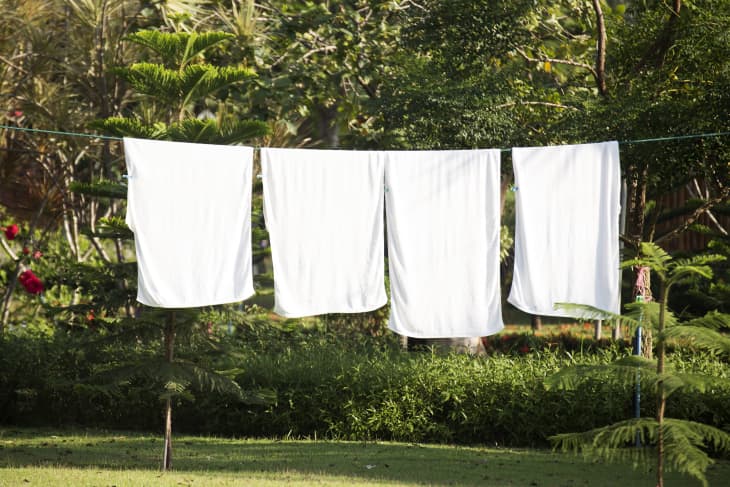 Is there a more iconic visual for the art of old-fashioned home keeping than a set of white sheets blowing in a sun-drenched breeze?
I sometimes hang my delicate clothing to dry, but using an IKEA rack in the garage isn't quite the same. For quite a while now, I've wanted to try my own hand at hanging sheets outside in the sun. I want to harness the power of the sun to help whiten them, and for the breeze outside to infuse them with the scent of fresh air.
Follow Topics for more like this
Follow for more stories like this
So I finally bought this retractable clothesline from Amazon and got ready to turn my vision of hanging sheets outside into my real-life experience. We found a spot on the fence to attach the unit and screwed the hooks for the extended line into a tree. It was the only spot in our yard that kept the clothesline unit out of sight that didn't also involve drilling into brick.
The unit itself is strong and user friendly. It has two lines, which you pull out of the unit and hook. Then you come back and wrap the end of the line around another hook that's on the unit itself so the line doesn't keep unrolling when you hang your items on it.
Timing my laundry became more complicated than when I just use my washer and dryer. Obviously I didn't want to hang anything if it could rain (which happens a lot this time of year in Florida), but I also wanted to be sure the sun was out in order to maximize its natural bleaching properties. Since I was washing my boys' sheets and duvet covers, I needed to do it early enough in the day that they could all be dry in time for putting them back on their bunk beds before bedtime.
I washed as usual with detergent, baking soda, and vinegar. I set up my lines and hauled the wet linens outside in a laundry basket. In my dreams, my laundry rests in a beautiful basket and I have a cute little pouch of clothespins, but all I had was a broken plastic laundry basket and I couldn't find the clothespins, which my kids appropriated for making catapults and forts.
Even without the accessories that lived in my fantasy, hanging sheets still thrilled me with that deep-in-your-bones satisfaction you find in achieving simple tasks that have been lost to machines and robots in a typical modern life. Now don't get me wrong, I love a good machine, including our robot vacuum. But, similar to the joy of making cinnamon rolls or pita bread from scratch, there is something simultaneously grounding and uplifting in finding presence through this kind of labor.
One thing I learned during this foray into line-drying linens is that my line wasn't hung as high as it probably should be. I didn't account for how much wet bedding would weigh down the line. My laundry didn't touch the ground, but the middle duvet cover had to be hung lengthwise so it didn't graze the grass.
The bedding wasn't at all stiff like I was worried it might be. This could be because of the baking soda/vinegar wash. I didn't notice much whitening from the sun, but I'm not sure how much of that would be immediately apparent anyway. The sun-soaked smell was as wonderful as I thought it would be. And I felt really good about saving energy from not running the dryer.
Overall, line drying my sheets was a pleasant experience. Now that I have a line purchased and set up, if I get my timing right, I'm looking forward to drying sheets and more outside.