The $14 Amazon Find I Think Every Candle Lover Should Own
We independently select these products—if you buy from one of our links, we may earn a commission. All prices were accurate at the time of publishing.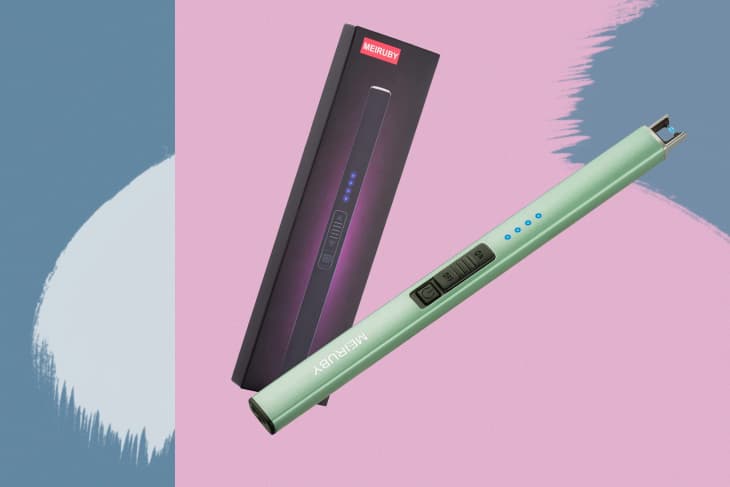 Anyone who knows me knows that I am a proud candle lover and I have an extensive collection to prove it. In a single day, I probably burn at least three candles, which means I'm constantly reaching for matches or a lighter. Matches can be dangerous to strike and aren't reusable so the cost adds up quickly. While gas lighters are a bit safer to use, they also ended up needing to be replaced way too often. So, after a little reflection (and scrolling on Amazon), I found a safe solution that also ended up saving me tons of money.
Follow Topics for more like this
Follow for more stories like this
A few months ago, I stumbled upon a rechargeable electric lighter and decided to give it a try. Since it was only $14, I wouldn't be too heartbroken if I ended up not finding it useful. Luckily, that was not the case. First, this candle is (obviously) rechargeable so if you're a frequent candle user like myself, it'll last at least a month before needing to be recharged. According to the product description, it can be used 600 times on a single charge.
The second coolest thing about his lighter is that its electric, so it doesn't use gas. This means that it doesn't create a fire, making it super safe and kid-friendly. When you press the power button, a spark is generated between two points creating an electric arch. The same way you'd use a traditional lighter, all you have to do is hold it over the wick for a few second before it ignites a flame.
There are lots of different brands that create electric lighters, so I can only speak to the quality of the one I ended up buying for myself. If style is a factor for you like it is for me, you'll happy to know that this lighter comes in six different colors: black, blue, light blue, purple, green, and silver. It's also really light weight, so you can slip it in your purse, your backpack, or even a carry-on suitcase. As an added bonus, this little lighter is so affordable and functional, it makes the perfect gift for anyone you know who loves burning candles.
With over 5,000 five star reviews on Amazon, I am not surprised that this lighter is a best seller. Honestly, I wish I would have switched over sooner.