This Magic Cloth from Amazon Cleans Glass Without Leaving Streaks
We independently select these products—if you buy from one of our links, we may earn a commission. All prices were accurate at the time of publishing.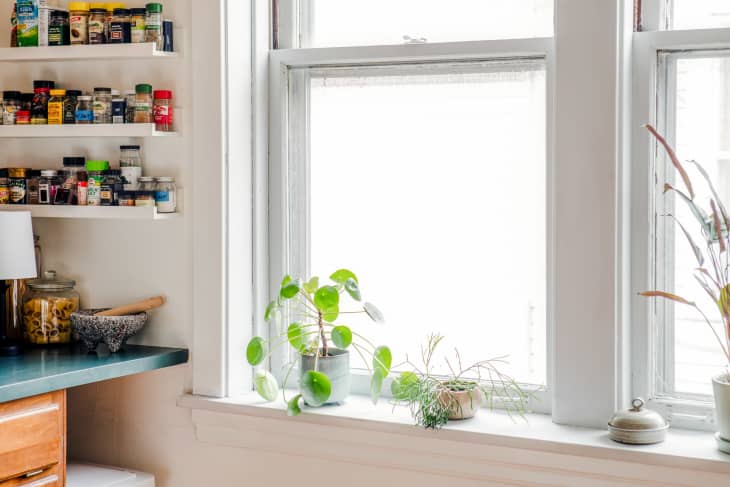 There's truly nothing worse than having to double back on your work after an epic (and lengthy!) cleaning session. From crumbs that your vacuum leaves behind to sheets that still don't smell all that great (ugh!) after a thorough wash, cleaning what you've already, well, cleaned, can be pretty disheartening. Another common culprit? Glass windows.
You know the deal — you set out to tackle all that city grime or kiddo fingerprints and think you've come away successful, only to glance over a few hours later to glimpse a roadmap of cloudy streaks across your pane or mirror. Such a bummer, right? You can switch up your paper towels, change out the formula of your cleaner, and somehow, some way, the streaks still appear. It's like the cleaning gods laughing in your face.
Well, now is your chance to laugh. Why, you ask? Well, you're about to have a new MVP on your team, thanks to our latest Amazon discovery: Persik's Pure-Sky Window Glass Cleaning Cloth. While it may appear similar to a regular microfiber cloth, there are some key features that help it stand out, starting with the patented Duo-Fect fiber technology. Put simply, the unique weaving of the cloth incorporates thousands of dual fibers — some filament fibers that hook dirt and debris; some fluffy fibers that trap dust and hair — for a truly deep clean that actually stays on the cloth once you stop wiping the surface.
Naturally, this makes the Pure-Sky cloth great for everyday dusting tasks on furniture, electronics, and more — but where it really shines (pun intended) is cleaning glass. By adding just a bit of water to the cloth (no need to soak it!) you can make quick work of glass and mirror cleaning without any chemicals and with zero streaks. It all goes back to those dual fibers again! In this case, they optimize air layers on the glass surface as you clean, allowing you to easily polish any streaks or wipe away any marks without adding to your mess. It also works on stainless steel, which can be notoriously difficult to clean without heavy-duty formulas.
More than 1,400 five-star reviewers love this for many reasons, chief among them its ability to deliver its streak-free promise. "I installed beautiful all-glass French doors, and no matter what I cleaned with, there were horrible streaks when the light shone through. Now, I barely dampen this cloth, run it over the doors, and not one streak, no lint — NOTHING but beautiful glass." Says another happy buyer (and proud grandparent!), "This cloth is the best thing I've ever cleaned with. We have five grandchildren and their little greasy fingerprints are all over my glass tables. After cleaning with Windex, it just seemed to smear them around. I cleaned my glass tables with the damp cloth and they have never looked so spotless." Beyond its ability to live up to the hype, this effective cloth will save you money on supplies (namely, paper towels and glass cleaner) and can muscle through over 1,000 uses in a single lifespan.
The best news? If you fall in love with this cloth (and we suspect you will!), there are plenty of other similar Persik products you can add to your cleaning arsenal, like a Multipurpose Mop Pad, a Car Cleaner, a Multipurpose Glove, and even an Eyeglass Cloth. Who knows — the whole collection may just solve all your cleaning pains once and for all.