I Trust This Stain Remover So Much, I'll Leave My 6-Year-Old Unsupervised with Sharpies
We independently select these products—if you buy from one of our links, we may earn a commission. All prices were accurate at the time of publishing.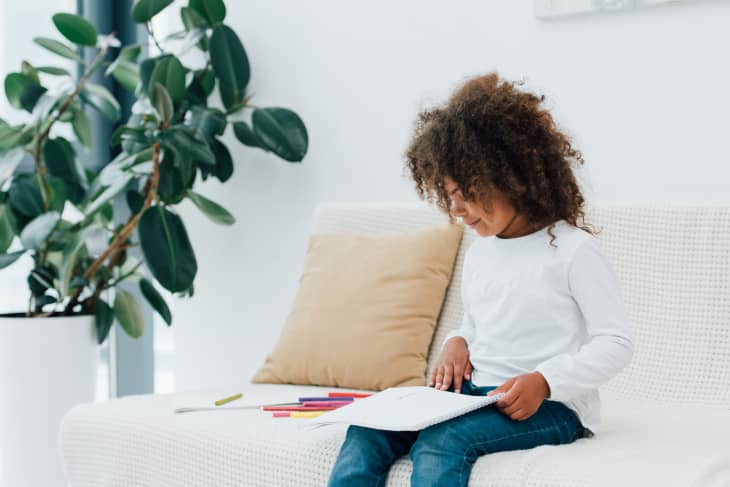 When Patric Richardson, a laundry expert known as The Laundry Evangelist, told me Amodex was his favorite stain remover, I raced to Amazon to add it to my cart. The customer reviews (which I read retrospectively, because Patric's input is more than enough to convince me) confirmed that, yes: I needed this product in my life. And you do too.
Follow Topics for more like this
Follow for more stories like this
Amodex is trusted to remove ink and even permanent marker like Sharpie, and it works (quickly!) on many fabrics, from upholstery to clothes to carpet. You can use it as a pre-treatment before you wash clothes, or you can use it directly on a stain on just about anything. In other words, Amodex and I are a match made in laundry heaven. 
Here's the deal: I have two, very creative (read: messy) little kids and a light gray couch—which, yes, not my best choice in adult life. Supposedly, the fabric on our specific sofa should repel stains—that's one of the reasons we bought it—but we haven't had much luck. All four cushions (plus the arms) carry caked-on evidence of my kids' snacks and antics, and up until this point, I assumed they'd be there until we traded our light-colored furniture for a more practical choice. 

That is, until Amodex came into my life. 
One afternoon, I foolishly gave my three-year-old son a granola bar with chocolate chips in it, then left him unsupervised on the couch while I did dishes. When I returned, he had melted chocolate all over his hands and legs, which had transferred to the couch. This was a job for Amodex—my first time putting the raved-about product to the test. 
Application is simple: You just put a few dots of liquid on the affected area (in my case, the chocolate chip residue, plus a couple other older chocolate stains—I truly never learn). Then, as the instructions read, you brush with an old toothbrush or your fingernail until the stain fades. Reader, I was shook. The older chocolate spots and the fresh stain totally disappeared in literal seconds of fingernail scratching. I wiped the Amodex residue with a cold, wet rag, per instructions on the bottle, then waited for it to dry completely. Still gone! 
To give this a five-star review, though, I knew I had to roll the dice with a scarier stain. So I took a Sharpie marker to a light gray storage ottoman in our entryway. (I'll be honest, even after seeing the miracle on my couch, I wasn't sure I was confident enough to graffiti my couch.) If the stain didn't go away, I could just replace the ottoman, or deal with the Sharpie line. I did my best to emulate my kids' art style by drawing a random, three-inch line on the fabric, then took a deep breath and applied the Amodex over the entire marker line. 
It took two applications, but after about thirty seconds of scratching total (I opted for the fingernail method once again), the stain appeared to be gone. Then, I wiped the affected area with the same cold, wet washcloth from before. It's like the Sharpie never happened. 
I still want to teach my kids to respect our furniture (and to watch where they smear their sticky hands), so I probably won't keep giving them messy snacks on the couch. I am, however, feeling more relaxed about markers. My 6-year-old is into YouTube drawing tutorials, and he likes to sketch with a black Sharpie. Previously, I'd watch him with eagle eyes until he finished his Pikachu drawing, but now that I know Amodex is a reliable method for removing impossible-to-remove stains, I don't feel the need to micromanage.
Parenthood is definitely full of surprises, but "Yes, I'd leave my 6-year-old alone with a Sharpie" is truly something I never thought I'd say.