This Modern Dutch Home Is the Definition of Dreamy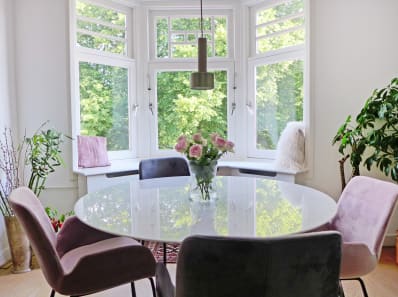 (Image credit: Ly Nguyen)
Name: Ly Nguyen and her boyfriend
Location: Amsterdam, Zuid
Size: 850 square feet
Years lived in: 5 months, owned
This is the first house that I bought and actually live in it so I wanted to make it as cozy and as personal as possible. I travel a bit for work so when I return to Amsterdam, I want to be in a quiet area but still within 10-15 minutes cycling from good restaurants and social happenings. This house checked all the boxes. I saw a lot of potential in the house when I first saw it: Big windows, and by the water, yet not as touristy and expensive as in the main canal belt area.
(Image credit: Ly Nguyen)
The house needed a little bit of work: like putting a tub in the bathroom and changing the gray paint colors that seemed to be the previous owner's favorite. I had wallpaper installed in the main walls in the bedroom and living area; they added color and texture to the rooms. I had different materials in the furniture: marble, brass, glass, velvet and glass. I love rugs and those were from my travels and have moved around the globe with me.
(Image credit: Ly Nguyen)
What is your favorite room and why? The kitchen is my happy place. I love having friends around the dining table. We eat Vietnamese food and drink tea. In the summers, the canal gets exceptionally festive with loads of boats passing by, music, people dancing on the boat, neighbors doing BBQ in the small park in the front yard. The windowsill is a great place to just sit and watch Amsterdamse life.
(Image credit: Ly Nguyen)
Any advice for creating a home you love? I'd say buy fewer and buy things that you absolutely love and things that can be repurposed. That way when you get bored, you can play with your stuff and create different looks, different functions. It is more sustainable and more fun.
(Image credit: Ly Nguyen)
What's the last thing you bought (or found!) for your home? It is the small table that now is now next to my bed. I bought it in Arga, India. It's the two materials that I love: marble and semi-precious stones. Craftsmen painstakingly cut and polished stones and inlayed them over a marble top.
I try not to clutter around the bed so it helps having a small table.
(Image credit: Ly Nguyen)
Thanks, Ly Nguyen!
• Interested in sharing your home with Apartment Therapy? Contact the editors through our House Tour & House Call Submission Form.