An LA Transplant Creates a Cozy Home in Williamsburg
We
independently
select these products—if you buy from one of our links, we may earn a commission. All prices were accurate at the time of publishing.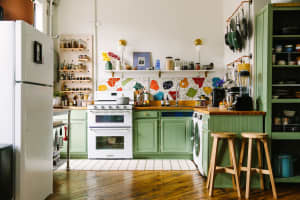 Can't-Miss House Tours Straight to Your Inbox
Keep up with our latest house tours each weekday with our House Tour of the Day newsletter
Name: Allie
Location: Williamsburg — Brooklyn, New York
The basics: 4 years, rented — about 900 square feet
Allie's super-stylish Williamsburg apartment has a ton of cool-girl character. Filled with souvenirs, cookbooks and DIY small space hacks, it has a well-lived earthiness to it, which for a frequent traveler like Allie, is always nice to come home to.
Tell us a little (or a lot) about your home and the people who live there: I moved here from LA about 4 1/2 years ago. I had an awesome apartment there and was sad to give it up, so I really wanted to make sure I found a place that I loved and that was a blank canvas for creating a fun new life here in Brooklyn. I travel every few weeks, so I'm often out of town, but I love my apartment so much that there's no better feeling than coming home to my own space and feeling great about how it looks. I also work from home, so I wanted to feel happy about spending a lot of time in here!
The exposed brick is what caught my eye first. It's an amazing color and brings a lot of depth to the space. It's contrasted with big windows, so at the same time it brings light in. The opposite wall is all white, which reflects the sunlight from the brick wall so it's not so dark. I love that. It can be difficult to decorate a brick wall, so I tried to keep the brick side very simple except for some bright colors and artwork. I added all the bookshelves to the white wall which can handle a little more clutter.
The whole space is open, but I wanted to make it cozy and warm at the same time. I created these "sections" to serve as rooms, so that everything is organized but also spacious and the light can still flow through. Adding bright colors and plants helps to keep it colorful and earthy.
The kitchen was redone by the previous tenant (I'm super lucky!) so I didn't have much to do to make it work. I added in the white subway tile to make it a little cooler, and again brought in color with pots and cookbooks. I went to culinary school and wanted the kitchen to be the main focus — so that you can be cooking in the kitchen and still have conversations with someone in any area of the apartment. I can also watch TV from the kitchen which is fun while cooking!!
I decided to keep my bedroom open — which is a little awkward when I have guests sleeping on the couch, but it works for me. I only have a coat closet at the opposite end of the apartment, so I created my own by buying bookshelves, covering the back and leaning my bed up against it. I now have a small walk-in closet behind the bed! This is great, because I have a lot of clothes and shoes, so I really wanted to make sure there was place to hide it all. I didn't want all my stuff out in the open and making the space look messy.
What is your favorite room and why? The "blue door corner." I have a tendency to overdo things, and I've been really holding back to make sure this little corner stays clean and beautiful. Within a week of moving in, I painted the door blue. It just spoke to me. It looks beautiful against the red brick, and I just love waking up to it in the morning. I've been to Greece and always loved that detail. Surrounded by plants, the green/blue/brick red all come together, and my good friend's painting of a man with a rainbow beard hangs in the middle of it all. It just makes me happy!
If you could magically change something about your home, what would it be? Adding a closet! What I have works for now, but I would love to have an actual room, something separate and easier to manage. I also have a weird open storage space above my bathroom ceiling which is great but looks a little odd when you walk in because you can see all of my junk.
What's the last thing you bought (or found!) for your home? Books! I love filling up the shelves with new books. There's a great used book store a block from my house so I always pop in there and buy something interesting off of the $5 shelf when I'm walking by.
I also try to bring back knick-knacks and mementos from all of my travel adventures. I went to India a few months ago and I brought back a beautiful hand-dyed blanket which looks great on the couch. I also went to Portugal and brought back vintage hand painted tiles to use as coasters.
Which fictional character would be most at home in your place? The Little Prince. He's small and seems young, but he's extremely imaginative. He is well-traveled and wise and always curious, yet, he still loves his home deeply and is loyal to those he cares about most. I like to think that we share a similar lifestyle and he'd feel safe and happy at my place.
Allie's words of wisdom: Try, TRY, to not use everything IKEA. It's hard because it looks so good in the store and the price tags are hard to beat! But I really tried to make sure that I only chose a few IKEA items (and ones that didn't look like they were from IKEA!) and slowly gave myself the time to develop the space by finding pieces from other places.
Also, it's important to make your place feel LIVED IN. There's nothing worse than a home that feels dead or empty.