Peek Inside an Organizing Pro's Well-Designed DC Apartment
We
independently
select these products—if you buy from one of our links, we may earn a commission. All prices were accurate at the time of publishing.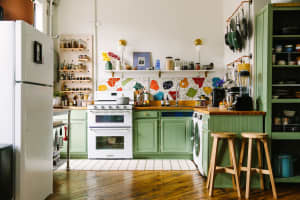 Can't-Miss House Tours Straight to Your Inbox
Keep up with our latest house tours each weekday with our House Tour of the Day newsletter
Name: Jenny and Huck the English Bulldog
Location: Logan Circle — Washington, DC
The basics: 5 1/2 years, owned — 850 square feet
Jenny is a professional organizer, so it comes at no surprise that her place looks, well, organized. But what's so great is that yes, it looks tidy, but it also has those little personal and vibrant touches that make a space look lived in. And it doesn't hurt that her dog is majorly cute.
Tell us a little (or a lot) about your home and the people who live there: Huck, my English bulldog, has been running the show here since I got him as a puppy almost four years ago. He loves having guests over and runs to bring them a toy whenever there is a knock at the door. The loft area has become "Huck's room' since I took out the desk I had originally put in there (that I never sat at to work).
Before moving to DC I lived in Southern Africa (Swaziland, Zambia and South Africa) for nearly a decade, designing and managing global HIV/AIDS programs with the U.S. Government. I kept doing that type of work once I got to DC – frequent trips to interesting places around the world, to collaborate with wonderful colleagues on important public health programs. But in 2016 I decided it was time for a career shift.
I have always loved interior design and organization, so setting up my condo in 2011/2012 was a ton of fun. Whenever I got the chance I also helped friends and colleagues do the same, especially when people were moving since I had so much experience moving from country to country. When Marie Kondo announced that she was going to start training people outside of Japan to become certified consultants in her method I knew that could be my next step. Over the course of the last year I have become her first (and currently only) certified KonMariTM consultant in the Washington DC area and set up my own company – Declutter DC – to offer organizing support to people in the area.
My company was recently named the 'best service to magically tidy up your house' by the Washingtonian Magazine for their annual Best of Washington DC issue out in June 2017 .
My home is filled with items that bring me joy and that I use regularly. Not just applying the KonMari method to my things, but being mindful about those principles for my lifestyle, means that my home is calm, aesthetically pleasing and gives me energy and strength to get up and run my days. Huck and I love having people over for dinner or to watch TV (or, since this is DC, watch the news…).
What is your favorite room and why? Definitely the main room because it is filled with most of the colorful artwork that I have collected from my travels and all of the plants that I somehow manage to keep alive. This is where I host friends, cook, throw a tennis ball for Huck and often I work right in the middle at the table. In 'Huck's room' (aka the loft) I do love the Piet Hein Eek scrap wood wallpaper that I had put up…I fell in love with it when I was first designing the space, and two years later knew that the investment was worth it and had it installed – I still think it's fantastic.
If you could magically change something about your home, what would it be? As the first certified Marie Kondo consultant in the Washington DC area, I am well versed in magical changes for homes! I'd have to say right now that I would change my HVAC system, because it is broken, and that makes me sad (and hot). Also I would love to have a small deck or other sort of outdoor space.
What's the last thing you bought (or found!) for your home? While many of my smaller plants have been around for years, I really struggle with keeping indoor trees alive. I may or may not have gone through several fiddle leaf fig trees and other types over the year so the fresh one that is here now is probably the last item I bought. Fingers crossed this one makes it…
Which fictional character would be most at home in your place? Perhaps Amelie – vibrant, yet a bit shy, focused on helping others around her. Comfortable being at home, watching the world go by from outside the windows into the bustling city, imagining storylines of everyone around her.
Jenny's words of wisdom: With my clients I always start by asking them to imagine what their ideal home looks like, how does it feel, and what do they want to do in it. For me, that meant I wanted a space that showcased the art and books I loved, that made me feel calm and inspired, and where I could host friends who would be comfortable and happy while in my home. Take your time when developing this vision. Look online or in publications for images that resonate with you – whether for particular furniture pieces or for your emotional response. Then you can break that down into colors, textures and spatial arrangements of furniture that can help you create a personalized space that brings your vision to life.
Oh and also, be really sure that the items you have around you are ones that you love and find useful. It may seem like a lot of work to carry out the whole KonMari process at the start, but I think it is actually the opposite – letting yourself be surrounded by items you don't need or like – that is the heavy burden on your happiness and on the design of your home.