12 Moments You'll Find In Every "Fixer Upper" Episode
We
independently
select these products—if you buy from one of our links, we may earn a commission. All prices were accurate at the time of publishing.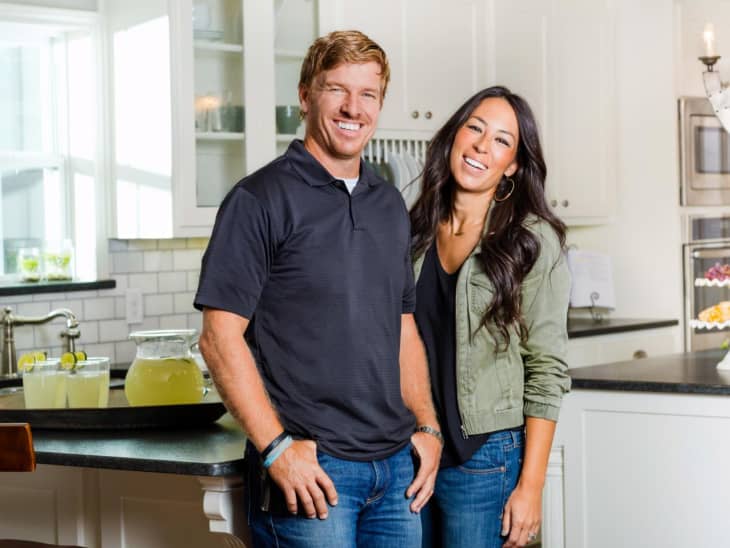 The Chip and Joanna Gaines hive collectively rejoiced when the duo announced that "Fixer Upper" would be rebooted on their very own TV network, Magnolia. There's no official premiere date yet, but the reboot—a continuation of the couple's beloved HGTV renovation series that aired for five seasons between 2013 and 2018—will likely debut when the network launches in early 2021. Magnolia will replace the soon-to-be defunct DIY Network with brand new shows. 
"Fixer Upper" followed Chip and Jo as they remodeled rundown homes around Texas. It catapulted the husband-wife duo into fame due to the dramatic transformations, as well as their always-charming dynamic as co-hosts. The best part of the series, though, is undoubtedly the consistent moments that made up every single episode. In celebration of the series' return, below is the anatomy of a "Fixer Upper" episode—from Chip putting something gross into his mouth to Joanna implementing shiplap walls. 
1. Shiplap, shiplap, and more shiplap
It isn't a "Fixer Upper" episode without shiplap, folks. Joanna loves shiplap more than Chip loves demo day. White shiplap on the walls! White shiplap on the ceilings! White shiplap everywhere!
2. Chip puts something weird into his mouth
A brief overview of all the things that Chip has put into his mouth without hesitation, much to the horror of his wife and their clients: A dead cockroach, a snake skin, some sawdust. 
In addition to shiplap, a true marker of a Joanna-designed house is one with very few to no walls. Jo loves her open concept more than she loves her baby goats, which leads us to the next point… 
4. A quick shot of the farm animals 
How does one break up scenes in "Fixer Upper"? With shots of Chip and Jo's various pigs, horses, chickens, and goats (emphasis on the goats—Joanna loves her baby goats) at their picturesque farmhouse. 
5. Chip propels himself into some drywall 
Demo day is not demo day without Chip propelling himself into some drywall to create the ultimate open-concept, shiplap-laden dream home. How is he never bruised or sore?
6. A trip to an antique shop with the kids
What's a home renovation without some antique staging furniture? Cue: A trip to an antique shop with kids Ella, Emmie, Drake, and Duke as they do cute kid things and dad Chip fools around.  
7. A cookie platter straight out of a magazine spread
Jo and her clients might be preoccupied by the design elements put together on her trusty laptop, but I'm always preoccupied by the cookies and pastries staged nearby. 
8. An "adios!" from Clint 
A "Fixer Upper" episode is not complete without a trip to craftsman Clint Harp's shop. An "Adios!" from Clint after Jo leaves him a design sketch is just about as vital as an, "Are y'all ready to see your fixer upper?"
9. Some sliding barn doors
Jo loves her sliding barn doors almost as much as she loves shiplap and open concepts. Sliding barn door for the bathroom! Sliding barn door for the bedroom! Sliding barn doors everywhere!
10. "It's gonna be a late night tonight"
This is in the same vein as Clint's signature "Adios!" Picture it now: A shot of Jo staging a home through the window as the sun begins to set. It's gonna be a late night, folks, but she's keen to get back to the kiddos.
11. A trip to Jimmy Don's metal work shop, obviously
It isn't a "Fixer Upper" episode without a trip to Jimmy Don's metal shop, where viewers get a glimpse of his computer monitor as he and Jo brainstorm some sentimental metal signage. 
12. And finally, teary reactions
Ah, the grand reveal! Chip and Jo's predominantly white, predominantly straight clients take in the dramatic transformation. It's beyond their wildest dreams.