This Ancient Roman Site Will Soon Be Reburied For Its Own Good
We
independently
select these products—if you buy from one of our links, we may earn a commission. All prices were accurate at the time of publishing.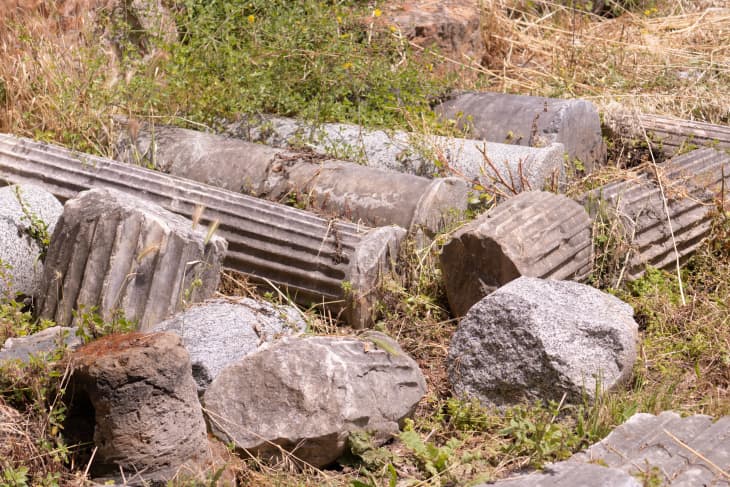 Being able to physically visit sites of historical significance is a great way to learn and retain information about the generations that came before us. But a "first-of-its-kind" Roman ruin that was discovered in Scarborough, England in 2021 was just covered back up as a way to preserve it while officials figure out how exactly to handle the finding.
The reburial was spearheaded by the government preservation organization Historic England, according to Smithsonian Magazine, which stepped in after archeologists unearthed the ruins while investigating the land that was designated for a housing development. 
It's believed that the ruins were a "high status" property — perhaps a religious building or luxury villa — as the foundation shows that there was once a central tower, a bathhouse, and several outbuildings, all designed and built by incredibly skilled craftspeople of the time.
Historians are now trying to work out why this building was erected some 40 miles outside of where the Romans settled in York around 71 C.E., and who might have lived there.
In the meantime, Historic England has decided to rebury the ruins for the time being. This is often done when resources for maintaining the property, such as money, staff, and materials, aren't available. And reburying also protects the site from weather and tourists or vandals. 
For now, the ground above the Roman villa will remain a public green space where, in the future, people will be able to see an "interpretive depiction" of what the ruins below them look like. 
Perhaps many years down the road the time will be right to uncover the ruins once again and do some more digging (so to speak). But for now, they'll go back underground for their own good.