Angela and John's Eclectic Argentine Casa
We independently select these products—if you buy from one of our links, we may earn a commission. All prices were accurate at the time of publishing.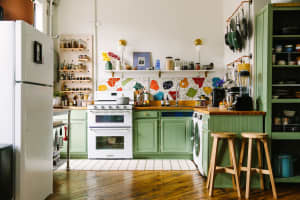 Can't-Miss House Tours Straight to Your Inbox
Keep up with our latest house tours each weekday with our House Tour of the Day newsletter
Name: Angela McCallum (of San Telmo Loft), John Brister and Indie the cat
Location: San Telmo, Buenos Aires, Argentina
Size: 900 square feet with a terrace of 300 square feet
Years lived in: one and half years — rented
Follow Topics for more like this
Follow for more stories like this
My husband and I spent two weeks in Buenos Aires earlier in the month. We rented a fabulous apartment and the owner was on vacation while we were supposed to check in. Serendipitously, Angela ended up getting us settled into our home away from home. She was gracious enough to invite us over for a dinner party (an asado to be precise) and as soon as I entered her home, I said, "I need to photograph this space!" Luckily, she, her boyfriend John and their cat Indie were kind enough to oblige my request so that I could share this glimpse into one of the more unique spaces I have seen.

Angela and John live on the top floor of their building in the funky historic neighborhood of San Telmo. Originally occupied by the owner of the building, the space was built out around a stunning dome as an apartment for him. When Angela and John took over the apartment, it was in desperate need of some TLC. With the help of bold paint and choice accessories found all over the world, their apartment is gorgeous, welcoming and one excellent place for dinner parties.
The original room of the apartment is under a cupula that had largely been ignored. Angela and John decided to highlight this amazing architectural detail by adding lights on the inside and spotlight to the outside. The glass ceilings in the entryway were originally covered with fabric that they promptly removed. The result instantly opened up the space and provided an internal view to the cupula above. And if these details and the stunning brick walls weren't enough to swoon you, there is also a 300 square foot terrace…a perfect place to house an Argentine barbecue.
Angela and John have managed to transform a temporary space into a home full of personality, charm, vibrancy and some of that Buenos Aires je ne sais quoi. If you are lucky enough to visit the "Paris of South America," be sure to check out some of the stores listed below. Also, Angela writes a very resourceful blog called San Telmo Loft (her money tips saved me multiple times) and also rents amazing apartments in the city via the same website.

Apartment Therapy Survey:
Our Style: We'd probably call it unconventional and transitory. Angela has been changing cities, countries, languages, and sometimes continents every few years for the past 15 or so years, so making big purchases has always been out of the question. John lived in Los Angeles for 20 years and had an apartment with amazing furniture he thought he'd have forever. When he decided to move down to Buenos Aires, his furniture spent a year in storage and it was all just sold a couple of months ago. A transitory life calls for unconventional design. We know that if we move we won't likely be able to take much with us, so we focus more on paint, plants, and small details that make an apartment a home. It's a sort of work with what you've got attitude.
Inspiration: San Telmo, our neighborhood here in Buenos Aires, provides a lot of the inspiration. It's an artsy, bohemian area with fabulous old buildings. For years, San Telmo was fairly abandoned. In more recent years, lots of creative types have moved in and begun to convert these old spaces into hip, funky, homes and businesses.
Favorite Element: The dome, the glass ceiling in the entrance and the terrace which is perfect for barbecues. We also love our purple, orange and green chairs. Angela bought them in a local thrift store and had them reupholstered in bright colors that are reminiscent, though not intentionally, of Mardi Gras (we're both from Louisiana originally). A bit of home when you're so far from home is always nice.
Biggest Challenge: The long narrow living room, kitchen and bathroom. The furniture in the living room was already here, we just had to find a way to organize it so that it felt inviting and cover it up because it'd been here for a long time and is very dingy. The table in the kitchen comes with the place, thankfully. To spice up the funky bathroom space, we got a glittery gold toilet seat.
Another big challenge was the hideous building we have across the street. We installed big planter boxes on the windowsills to give us some cover and painted the window in the dome using tape to create a design to hide the eyesore in front of us.
What Friends Say: Everyone loves the dome and the kitchen table. They also love blue magnetic wall in the kitchen and the gold toilet seat. Funky things for a funky place.
Biggest Embarrassment: The living room furniture. It came with the apartment and we've just never gotten around to recovering it. We've covered them up with things we had to simply make do. We also haven't paid much attention at all to the bedroom. One step at a time.
Proudest DIY: The Christmas lights inside the dome and the spotlight on the roof that lights it up at night so you can see it from inside. Before we put the spotlight out there, you could really only see the dome when there was a full moon or during the day. And before we put the Christmas lights up all the way to the top outlining the shape of the inside of the dome, you couldn't really see any of it because it's high up and covered in dark wood. Since it's our favorite part of the apartment, we wanted to show it off.
Biggest Indulgence: We haven't made any huge purchases because we never know how long we'll be in a place. One of our biggest indulgences was getting John's sister to bring us a can of magnetic paint from the States when she came to visit. We used it on the blue wall in the kitchen. Initially the idea was to hang some of Angela's photography up there to study it and decide which photos warranted more work. Somehow though, it's turned into a wall of funky magnets. We've got Che Guevara, Evita, and Michael Jackson with various changes of clothing. When people come over, this wall tends to be a gathering spot. We also have a bunch of Argentinean slang magnets on the fridge. After a gathering of our friends, it's a blast to read through the sentences they put together and guess who composed which one.
Best Advice: Our advice is more for expats and people who have to make a drab temporary rental feel like home. Go bold with the colors. Since you don't have to worry about getting sick of it, do something you might not normally if you were planning to live in the place for years on end. Buying expensive furniture is often out of the question when you're moving as much as we are, so find the local thrift store and pick up some cheap things that can be inexpensively renovated. Also, if you can't get the owner to take out the old furniture, cover it with whatever you have. We used a poncho Angela bought in Uruguay, a tablecloth bought in Istanbul, and a hammock bought in Panama. They cover up the dingy white and make for great conversation pieces. And one last bit of advice: when you're traveling abroad, buy things you'll display in your home. They become a constant reminder of the place and your trip there, and it's usually something you would never find back home.
Dream Sources: If we were living here long-term, we'd love to redo the kitchen with great appliances because we cook all the time. We'd also put a spiral staircase on the terrace to the roof and create a larger terrace there that overlooks the lit up dome. Then we'd buy a projector and project cool artwork on the terrace wall. For parties, we would have an old projector and display black and white horror films on the dome that you can watch from under the glass ceiling in the entrance. Ok, we're really dreaming now. We've also talked about replacing the metal grate in the dome with a transparent polycarbonate and adding throw pillows up there to make the loftish area of the dome another room of sorts.
But one dream we had for quite a while that looks like it will be taken care of in the coming weeks. We're painting the water tanks and adding graffiti stencils. Because we're on the top floor, our terrace looks onto the six massive water tanks that service the entire building. Most buildings in Argentina have water tanks on the rooftops. We've been saying for a while now that it would be great if the city would commission artists to paint them so there would be art up in the sky instead of ugly concrete tanks. Our neighbors have designed some stencils and will be popping up this week to get started. We'll see if we can make these graffiti tanks a trend.

• Kitchen: Sherwin Williams Impromptu SW6955
• Entrance: Sherwin Williams Obstinate Orange SW6884 (We mixed it with glaze and cut bristles out of the brush to create a textured effect.)
• Living Room and Entrance: Sherwin Williams Black Fox SW7020
• Around Outside of Dome: Sherwin Williams Intellectual Gray SW7045
• Purple, Orange, & Green Chairs: EMAUS, a thrift shop here in San Telmo on Chacabuco, between Defensa & Bolivar. The fabric comes from one of the many textile shops in the neighborhood Once, the local equivalent of a Middle Eastern souk. Reupholstery done by a guy in Las Cañitas in his tiny shop on Republica de Eslovenia.
• Bookshelves: EMAUS again
• Carpenter's Bench: Rajatabla, a great furniture store here in San Telmo on Balcarce between Humberto Primo & Carlos Calvo.
• Hula Girl Divider in Pantry: Vendor on Venice Beach in Los Angeles. Our first trip together was to Hawaii, so it seemed appropriate. Oddly, this hula girl inspired the colors in the kitchen and entrance.
• Photograph in Entrance below the dome: The photograph is one of Angela's. She took it in Egypt at the souk (Khan Al Khalili)
• Desk: Rajatabla again.
• Futon and Chairs: All came with the apartment.
• End Table: Antique fair in San Isidro, a northern suburb of Buenos Aires that has a small antique fair at the train station on weekends.
• Red Poncho on Chair: La Oveja Negra, a great store in Colonia del Sacramento, Uruguay.
• Tablecloth on Chair: Souk in Istanbul.
• Hammock on Futon: Market in Panama City, Panama.
• Cowhide Rug: Market in Tigre, which is a small town about 40 minutes outside of Buenos Aires on the Parana River. The market has all sorts of Argentinean arts & crafts and lots of home decor stores at much better prices than in Buenos Aires.
• Throw Pillows: Local artist, Natalia Smirnoff. (Natalia designed two of our vacation rentals, The Loft & The Pad.)

• Artwork on Blue Wall: Bought at the street fair in San Telmo. The artist's last name is Schenone. She's local.
• Magnets on the Kitchen Wall: Tienda Palacio in San Telmo on Defensa between Carlos Calvo & Estados Unidos.
• Artwork above the Stove: Local artist Natalia Somaglia. (Natalia also designed our vacation rental called The Depto).

• Cowhide Rug: same as living room.
• Artwork above the Bed: Local artist Natalia Somaglia.

• Glittery Gold Toilet Cover: Tienda Palacio.
• Purple Beaded Divider: L'Ago, a funky design shop in San Telmo on Defensa between Carlos Calvo & Estados Unidos.


• HOUSE TOUR ARCHIVE Check out past house tours here
• Interested in sharing your home with Apartment Therapy? Contact the editors through our House Tour Submission Form.
• Are you a designer/architect/decorator interested in sharing a residential project with Apartment Therapy readers? Contact the editors through our Professional Submission Form.