A Color Expert's Own Brightly Hued Home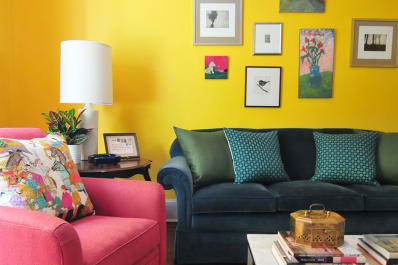 Name: Annie Elliott, CEO Bossy Color Interior Design
Location: Woodley Park, Washington, DC
Size: 2700 square feet
Years lived in: Owned 8.5 years
With a business called "Bossy Color" one naturally has a strong point of view when it comes to design. Enter Annie Elliott, the energetic designer behind Bossy Color Interior Design based in DC. When I photographed an interior project for one of Annie's clients a few months ago, I had a hunch her own home would be a vibrant gem bursting with personality. And of course Annie and her sunny personality didn't disappoint.
Seated in the beautiful neighborhood of Woodley Park, nestled between large stone homes and lush, tree-lined streets with personal gardens is Annie Elliot's charming three-story home that she makes with her husband and daughters. The home opens to a grand foyer with high ceilings and rich hardwood floors. For added pop and a touch of whimsy, Annie used wall-to-wall wallpaper with an exotic bird printed textile. The foyer invites you to enjoy the sunlight of the large living room bursting with vignettes of color, charm, and personal touches that reflect Annie's penchant for eclectic design. The living room itself has been redesigned a number of times over (just ask Annie's patient husband), and on this particular day it sits dressed in rich golden yellow hues, greens, and pinks.
Being the hands-on designer that she is, Annie also reupholstered all of the chairs and couches herself, including a beautiful barrel chair with teal leather fabric. Even the restroom, which sits just off the dining room in a discreet manner, gets a full makeover, playing off the deep green carpeting of the dining room with full on wall-to-wall striped green wallpaper, light green floor tiles, and green accent furniture.
And while the downstairs rooms opt to be the life of the party, the upstairs bedroom seeks a more demure presence, preferring to take the colors downstairs (yellow, green, and blue) and turn the volume down. The instant serenity of the bedroom is achieved by the soft white bedspread, calming light blue wall color, whimsical headboard, wooden accents like the mid-century credenza and rocking chair and the natural textures such as the bamboo window chair.
Apartment Therapy Survey:
My Style: Mixing old with new and high with low is the style I'm most comfortable with. I just feel better when there's an antique or vintage piece anchoring the room – it makes the space feel less "design-y." For that reason, Celerie Kemble is one of my biggest style inspirations. And Jamie Drake is my hero for color and general awesomeness.
Favorite Element: I am such a sucker for herringbone floors. Wood, stone, ceramic…it doesn't matter. They're my favorite design element, for sure.
Biggest Challenge: The biggest challenge in our house is having a powder room off the dining room. I mean, eeew. It was a FULL bath when we first moved in, but we did away with the shower recently. We tried to figure out a way to move the doorway, but in the end, we figured that in a 100-year-old house, you have to live with some quirks!
What Friends Say: Our friends love our house...but then again, if they didn't love it, they'd probably be wise enough to stay mum! Lately, they've been saying that they find the new color of the dining room soothing. It's a pale blue-gray by Farrow & Ball, appropriately named, "Light Blue."
Biggest Embarrassment: My biggest embarrassment – SHAME, really – is that it took me 6 years to crack the code on my own living room. I dragged my poor blog readers through the process…I simply couldn't get the wall color right. It's a north-facing room with only one window, so my first thought, naturally, was yellow. (Anyone who knows me is rolling their eyes right now; I'd paint the whole world yellow if I could.) But because I was a new designer, I thought that was the easy way out. I squelched that urge and spent the next 6 years experimenting with warm whites, blues, even a pinkish red…my poor husband! In a fit of disgust, I finally said, the heck with it, I'm just going to go with yellow. REAL, bona fide, Monticello, egg-yolk yellow. (The yellow pictures on my website are of that room.) I love it. Finally.
Proudest DIY: Tragically, I don't have a lot of time for DIY projects these days; I used to paint anything that would stand still. I'm slowly painting our radiators various metallic colors, and I recently painted the frame of our foyer mirror. It's a nice big mirror I found at Home Goods, but the frame was a dull fake wood. I was worried that it wouldn't hold the new paint – I didn't have time for a primer (and by that, I mean that I was too lazy to do a primer), so I just crossed the fingers of my non-paintbrush-holding hand and did it. And it turned out fine.
Biggest Indulgence: My headboard. Hands down. I used Galbraith and Paul's fabric, "Birds" in the colorway Lake, and I still think it's one of the most beautiful things I've ever seen. It makes me happy every single day. How often can you say that?
Best Advice: If you see something unusual that you just adore – a piece of art, a chair with zany upholstery, a kooky lamp – BUY IT. You'll always find a place for something if you love it. (This excludes stuff you can get from normal shops; I'm talking about things that are one-of-a-kind.) I literally lie awake at night regretting the things I didn't take home…a pair of small '60s landscape paintings comes to mind. Don't let this happen to you!
Dream Sources: My dream source would have to have an accompanying dream SPACE! If money grew on trees, I would buy every interesting object that caught my eye and stash it in my spacious, well-lit, climate-controlled storage space. From 1st Dibs to my favorite junk shop on the Eastern Shore of Maryland to all of the fancy antique stores in Europe I haven't been to yet, I would just buy and buy and buy, knowing that the perfect opportunity to use each of these amazing objects would eventually present itself.
Resources of Note:
PAINT & COLORS
Farrow and Ball "Light Blue"
FOYER
Wallpaper: Nina Campbell, Osborne & Little "Paradiso" print
Painting: 20 x 200 (now defunct)
Gate leg Table: Former Dining room table from Annie's childhood
Sideboard: Heirloom from grandmother
Mirror: Home Goods
Lamp and Shade: World Market
Tray: West Elm
LIVING ROOM
English Chair: Family heirloom
Chair: Family heirloom that Annie reupholstered
Table: Grandmother's
Sofa: Craigslist (reupholstered by Annie in Robert Allen velvet)
Settee: Mitchell Gold + Bob Williams "Mona Sofa" (Annie reupholstered)
Coffee table: Room and Board
Little tables: West Elm
Armchairs: to the trade store: reupholstered
Curtains: Haute store
Lamp: Melwood thrift store
Pillows: Manwell Canovas
Rug: Rugs USA.com
Gold Cricket Box: Etsy
Stools: Husbands'
Vases: CB2
DINING ROOM
English sideboard: Annie's grandmother
Chair: her parent's from New York in the 60s
Lamp: Barbara Berry from Circa Lighting
Painting: Joe Myer (Eastern Shore)
Table: Goodwood DC
Antica chairs: Design Within Reach
Drapes: Manwell Canovas
Robert Allen hardware
Slingshot: Graham Boyl
Rug: Home Decorator's Collection
BEDROOM
Chest from Vermont
Marble tiling: Online purchase
Lamp: Store in St. Michael's, MD
Brass: Etsy
Lampshade: Shade Store
Green Wallpaper: Farrow and Bald "Drag Paper"
Mirror: One King's Lane
Painting: Etsy (Elizabeth Brown " Dragon's Appetite)
BEDROOM
Headboard:
Bookshelf: Ikea
Pillows: Etsy
Bedding: Company Store
Danish Credenza: Ebay
Lamps: Circa and World Market
Mirror: Ikea
Painting: First Annie purchased from Corcoran Gallery
Monica J. Bose art
Rocking Chair: Christening present to Annie when she was born
Pillow: Pottery Barn
Dresser: Husband's from his childhood
Rug: Flocati rug purchased online
Ceiling Lamp: Minka Aire
Thanks, Annie!

(Images: Nicole Crowder )
• HOUSE TOUR ARCHIVE: Check out past house tours here.
• Interested in sharing your home with Apartment Therapy? Contact the editors through our House Tour Submission Form.
• Are you a designer/architect/decorator interested in sharing a residential project with Apartment Therapy readers? Contact the editors through our Professional Submission Form.
*Tour previously published
Apartment Therapy supports our readers with carefully chosen product recommendations to improve life at home. You support us through our independently chosen links, many of which earn us a commission.