Apartment Therapy's New (Online) Frame Shop Will Help You Frame Your Art Easily and Beautifully
We
independently
select these products—if you buy from one of our links, we may earn a commission. All prices were accurate at the time of publishing.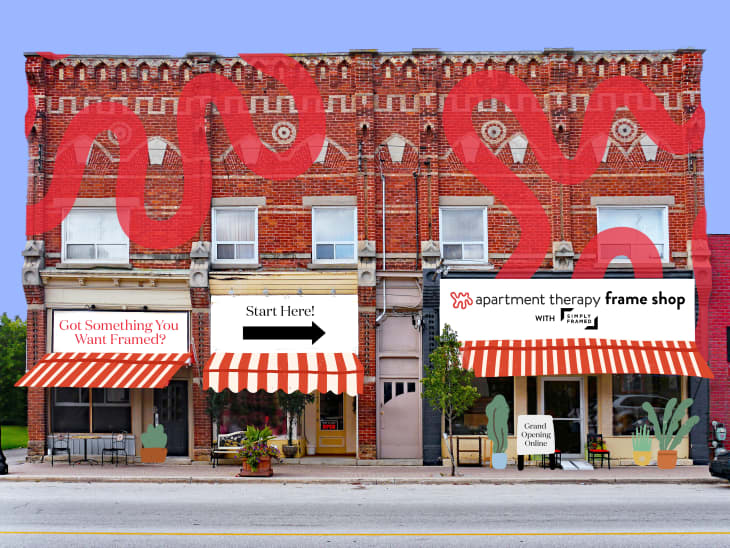 Hi, I'm Maxwell, founder of Apartment Therapy, and I'm happy to announce the launch of a brand-new collaboration and the beginning of a new idea: AT Services, which are curated online services to make your life better at home. I invite you to Start Here with us at the Apartment Therapy Frame Shop (online only, the pic above we made up).
Our mission at Apartment Therapy is to help you solve problems at home. While framed art on your wall can be a highlight of any room, framing art has always been a big problem, so much so that many people don't do it, or, when they do, they're uncertain about their choices and if it will look good. I've struggled with this, too!
I've always wanted to offer a really simple, really reliable online framing solution. Now, by teaming up with Simply Framed, we've gone and done it. Simply Framed is an awesome company started by Dara Deshe in 2014 that offers a wide range of online framing services. Working closely with her, I've curated their options to the one that I like best and have used for years.
As I've framed many photos, prints, drawings and objects over the years, I've settled on a favorite framing setup: a clean, classic, square cap gallery style that always looks great and can hang in any room. It's also perfect for gallery walls.
I float my art and shadowbox it
I keep it tight, 1" from the frame, and mounted on a 4-Ply white paper mat
Digital uploads are dry mounted and mail in art is hinge mounted without a lift
I go for 99 percent UV Acrylic which is very protective and lightweight
I hang with classic wire most of the time, but switch to corner brackets for large frames
So, when you come to the Apartment Therapy Frame Shop, you'll only be asked three questions and you'll be done.
Here's all you need to think about:
Is my art a digital upload or mail in?
What's the size? 
White, Black or Natural frame? 
This last question might be the most challenging, but I will also recommend that you can safely go with white for all your art, but opt for black if your work is dark or vintage, and natural if your work is sunny, bright, beachy and you want to mix it up. They will all work great together. 
Then, in just a few weeks or less, your art will be at your door and ready to go on your wall. 
Best, Maxwell
Founder, Apartment Therapy