6 Apps That'll Make Saving for Your Down Payment a Little Easier
We independently select these products—if you buy from one of our links, we may earn a commission. All prices were accurate at the time of publishing.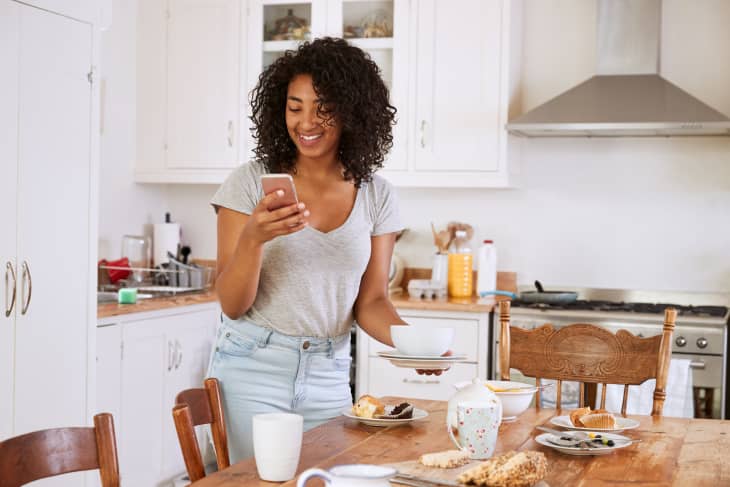 Saving up a down payment for a home is no small feat. Depending on the price of the home and the type of loan you're getting, the number could be anywhere from a few thousand dollars to tens of thousands.
With apps that help you budget, invest, and even earn extra cash for things you already do, you can get the boost you need to build up that down payment and get ready to buy. Ahead, find six apps that'll help you save for a down payment as fast as possible.
With Acorns, it's easy to start investing with your spare change. When you link Acorns with your debit or credit card, you can round up each purchase you make and automatically invest it. When you're using the stock market to save money, though, make sure you're OK watching the total go up or down with the market. If you're using investments to grow your down payment, it's best to leave the money alone for a few years to see the gains and mitigate market fluctuations. When you're ready to withdraw, check with a tax professional so you're aware of any tax implications.
Mint is one of the most popular budgeting apps out there right now. With Mint, you can gather all of your bills and subscriptions in one place, check your credit score, track your investments and income, set up a budget, and track expenses — all for free. The app connects to your bank account, so you can stay on top of your finances and set aside extra money for a down payment. 
Ally is an online bank that offers high yield savings accounts where you can park your down payment savings and watch it earn 10 to 25 times more interest than a standard savings account — though interest rates are low at the moment, so it may not be quite as much. One feature of the Ally app is that you can use "buckets" to organize the money in your account. This lets you visualize the progress you're making towards each savings goal.
Ibotta gives you cash back on stuff that you're already buying. All you have to do is add offers in the app and then upload your receipt after you shop. With $1 billion credited to their users, the app makes for an easy way earn some extra cash to put towards your down payment.
With the Fetch app, users scan receipts from anywhere you spend money, like gas stations, stores, and restaurants. Then, you earn points from each receipt, which can be redeemed for gift cards to stores and restaurants (I always go for Chipotle). Then you can put the money you would normally spend on going out or shopping into savings.
Designed to make saving and home-buying as easy as possible, Lower helps you save your down payment while earning 0.75 percent APY in their FDIC-Insured HomeFund. By signing up, you'll also earn up to $500 in "HomeCash," which goes towards closing costs when you find the perfect home. When you're ready to buy, you can apply for a mortgage at competitive rates and work with a Lower real estate agent.
Taking advantage of all the ways to save, invest, and earn money can make the task of saving a down payment just a little easier and move you closer to your goal of homeownership.