Here Are the Aquariums and Zoos Sharing Live Videos of Animals, Because We All Need This Right Now
We independently select these products—if you buy from one of our links, we may earn a commission. All prices were accurate at the time of publishing.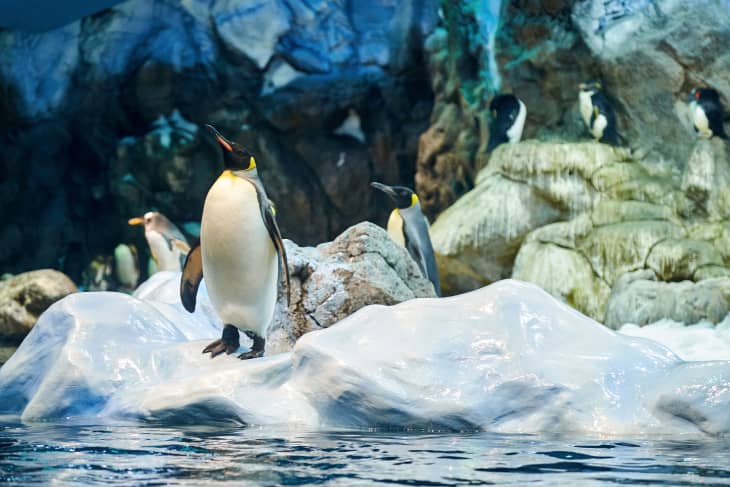 While there are virtual tours and streaming performances you can enjoy from the comfort of home, sometimes there's no better relief than watching a cute animal at play. And aquariums and zoos are giving us that fix, by live-streaming their residents for the world to see.
While these facilities have temporarily closed their doors, they're continuing to spread the happiness that animals can bring via cams. While these zoos and aquariums are setting up viewing sessions for our benefit, they're also asking for donations to help give the animals the care that they need.
Follow Topics for more like this
Follow for more stories like this
See below for the places where you can watch your favorite animals blissfully frolic, and be sure to show your support however you can.
Houston Zoo in Houston, Texas
Every weekday at 11 a.m. CST, the Houston Zoo is streaming a Facebook Live featuring a different animal friend. They've already live-streamed favorites like cheetahs, sloths, and elephants, and during the videos the audience is encouraged to jump in with questions. Additionally, the Houston Zoo has several webcams on their website that are available for watching anytime, any day.
Cincinnati Zoo & Botanical Garden in Cincinnati, Ohio
Monday through Friday, tune in at 3 p.m. for Home Safari Live on Cincinnati's Zoo Botanical Garden's Facebook page, where one animal is spotlighted and a fun assignment follows. While anyone is welcome to participate, this is especially geared toward families with young children who want to take part in an educational activity together.
Shedd Aquarium in Chicago, Illinois
You know those trending videos of penguins walking around the aquarium that are just the sweetest things you've seen all week? Well, now you know who to thank. The Shedd Aquarium in Chicago has been posting the adventures of Wellington the penguin to brighten up our days, in addition to other animals having adventures like Tyson the prehensile-tailed porcupine.
San Diego Zoo in San Diego, California
You can have your pick of what animals to watch from the San Diego Zoo's library of live cams. Witness koalas climb trees for a while, then switch gears to polar bears swimming here, there, and everywhere. They're also holding Facebook Lives that spotlight an animal and allows for questions throughout the duration of the video.
Monterey Bay Aquarium in Monterey, California
The social media team over at the Monterey Bay Aquarium are staying busying by filming live sessions of animals on their Facebook page. Like many other facilities, they welcome questions from the audience during the viewing parties. You can also watch a wide array of species on their website's live cams, from jellyfish to coral reefs and sharks.
Elmwood Park Zoo in Morristown, Pennsylvania
Elmwood Park Zoo has introduced their new programming Zoo School Live on its Facebook page. Every day of the week at 11 a.m. EST, viewers can watch one of the zoo's educators talk about a spotlighted critter, from Pokey the porcupine to Zeppelin the owl.
Georgia Aquarium in Atlanta, Georgia
The Georgia Aquarium is engaging with their audience through streaming sea cams on Facebook Live. From jellyfish to coral reefs and school fish swimming about, visitors can watch marine life from the comfort of their home. These live cams are also available on the Georgia Aquarium website.
Smithsonian's National Zoo in Washington, DC
The Smithsonian is another zoo that's continuing to share their live cams of various animals, from naked mole rats to giant pandas and even lions. They also continue to post video and photo updates of their animals and facility on their Facebook page.