This Artist Uses Leftover Paint in a Surprising and Charming Way
We independently select these products—if you buy from one of our links, we may earn a commission. All prices were accurate at the time of publishing.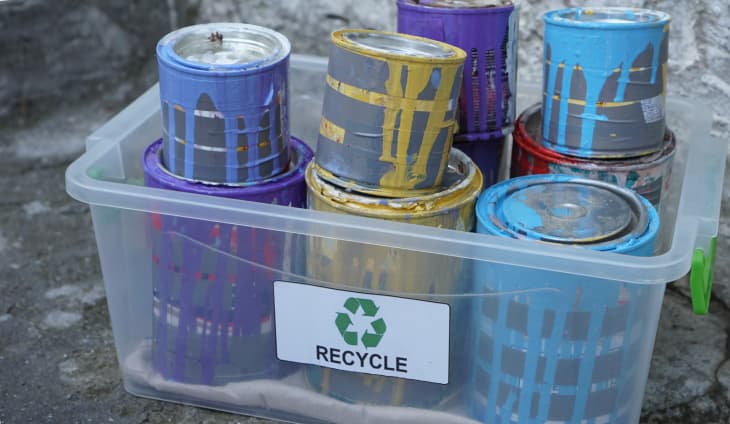 What do you do with all your little bits of leftover house paint?  Do you store the paint for touch-ups? Dispose of it? Pick a project off of your to-do list and use it up?
Follow Topics for more like this
Follow for more stories like this
Luna first started working with leftover house paint to keep costs down while creating art during college. "When I first started layering paint, it was for a project," he says. "My teacher told me there was a lot of leftover paint from students from previous years, and I was welcome to use any of it once she saw how much paint I had already gone through.  The majority of it was house paint."
After finding out that leftover house paint worked just as well as fine art paint for the types of projects he was working on — and for a lot cheaper — Luna started collecting leftover latex paint from friends, Reuse stores, and local paint stores that would sell him custom color returns or mis-tints (a color that doesn't turn out to be the exact shade promised). 
Now it's become part of his mission to keep using leftover materials to create less of a footprint while making his paintskins.
When he moved to New York City a few years ago, Luna said he started experimenting with creating smaller pieces of art in part due to limited space.  In 2020, he was working on a project that involved rolled-up spiked paintskins when he noticed the similarities between the green spikes he was creating and his Sansevieria Cylindrica.
"It looked like this plant, but it made me think of an abstraction of a blade of grass," says Luna. 
On top of that, during this time, he was stuck in his home — a plant-filled Brooklyn warehouse loft — thinking about some of the more significant issues at hand, including climate change and "anything pertaining to the destruction of nature," says Luna.  "Recycling paint has always been my way to fight against that."
To make the paintskin plants, Luna paints five to six layers of recycled paint onto freezer paper, and then he paints one final layer of the color he wants to achieve (green for the plant leaves or a terracotta color for the pot). Using just one layer of his display color means that the rest of the layers can be formed with colors that would otherwise go to waste.
Those layers are also how his project got its name: "When I'm layering the paint, I'm essentially creating a skin," says Luna. "It makes me think of actual skin in terms of the elasticity, durability, even the layers of it."
Once the layers are dry, Luna cuts them into strips and rolls them into cylindrical forms.  For this particular project, he even ground up dried paintskins and spray painted them a brown color for the soil. 
One of the best things about these paintskin plants? They definitely fall in the low-maintenance category.  As far as your plant care routine goes, no bright light or water monitoring is needed, although Luna jokes that it's ok to accidentally mist your paintskin plant if you have it snuggled up to your live houseplants.
One other key part of this project, in Luna's eyes, is to give regular ol' people — you know, those of us without a massive budget for original art — a timely piece without the pretentiousness of the typical art scene.
"I want my art to be accessible to everyone, both financially and mentally," says Luna. While his other paintskins are typically displayed in galleries or art shows, this limited collection of 50 paintskin plants were sold via his Instagram account and at general irving, a local coffee and essentials shop in Brooklyn.
If you're tempted to try a similar out-of-the-box creative project at home, Luna encourages you to just go for it. "In terms of creativity, you just have to go ahead and start doing it rather than thinking about it," he says. "The longer you think and plan, the easier it is to convince yourself that it's not going to work out."
He says this is especially true when it comes to using leftover paint, as it does have an expiration date.
"Better to try it and fail," says Luna. "You'll start thinking of new ideas and new ways to improve your original thought, and it will be ideas you wouldn't have thought of if you were just planning out the initial concept."
Next on Luna's list: creating a paintskin farmer's market that includes paintskins formed into fruits, vegetables, and other plant life by the end of this summer.  Long term, he plans to develop an immersive installation made out of paintskins that includes plant life, trees, and bodies of water — all made out of recycled latex paint.
"I've always seen these smaller pieces and ideas as experiments to see if I can create this larger installation project," says Luna. "I'm still experimenting with how to create different forms and textures to better mimic natural life."
Until then, Luna says he feels the weight of the need to take care of the planet we're inhabiting so that we can keep enjoying live plant life and not have to be surrounded by artificial greenery (even if the paintskin plants are adorable). 
So instead of disposing of your leftover house project paint, try something new and see what happens.  Even if you fail, you might be inspired by your own creativity, and you'll be doing your part to move toward a more sustainable and less wasteful future.