Artist Shyama Golden's Brooklyn Home Is 'PeeWee's Playhouse Meets Tropical Modernism' Style
We independently select these products—if you buy from one of our links, we may earn a commission. All prices were accurate at the time of publishing.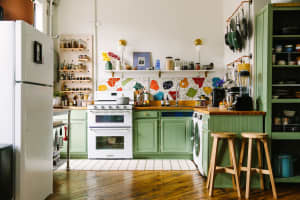 Can't-Miss House Tours Straight to Your Inbox
Keep up with our latest house tours each weekday with our House Tour of the Day newsletter
Just over seven years ago, artist Shyama Golden was living with a couple of roommates in a special old warehouse in San Francisco full of plants, art, and art-people. A guy visiting from NY—who used to live in the building—put on a screening party in their living room. At the party, Shyama saw his short "A Truncated Story of Infinity" and that was the defining moment when, as she says, "I knew in my cold frigid bitter heart that I had fallen for Paul, whom I had met just a few hours ago while making guacamole."
Cut to Shyama moving to NYC to an apartment she fell in love with: "windows in every room, details on the archway at the entry, a skylight in the bathroom, an efficient floor plan and high-ish ceilings." And as fate would have it, eventually, Paul moved in.
Shyama recounts, "I got rid of a lot of my stuff so there would be a place to put him and all his stuff. We ended up with twice as many books, four times as many knick-knacks, and five times as many mannequin hands. We watched Williamsburg change over the years and woke up more and more often to the jack hammering of boxy new condos being built outside. We can't control the heat, but thankfully it's on full blast in the winter so we could enjoy frozen margaritas and wear little shorts all year long, if we wanted to. Overall I do love the lifestyle in Brooklyn—especially the bodegas (and really I'm talking about their cats). I have also been car free for eight years now and it's been a safer world ever since. Last year we got married at City Hall and recently had a small but fabulous and very DIY party in our neighborhood to celebrate it."
After all these years in Brooklyn, Paul and Shyama are planning to move to Los Angeles to have a little more space and sunlight. Paul aims to start making his own features in addition to the work he's already doing with his shorts, music videos, and commercial work, but they are taking their time because they still want to do a lot more things here and spend as much time as they can with their friends before the cross-country move happens.
Before they go, Shyama's next exhibition will be at THE HALL at 9 Hall Street, Brooklyn, NY, opening on September 20th and running for a week. It will be free and open to the public. It's right before they move to LA so it will be a nice sendoff and a chance to meet her in person. She'll have prints available as well as a few originals for sale.
Apartment Therapy Survey:
Our Style: PeeWee's playhouse meets Tropical Modernism
Inspiration: The earthy and colorful style that's prevalent in Mexico City, '60s and '70s architecture books I got for 25 cents at the public library book sale as a child, my San Francisco roommate Joseph Becker who first opened my eyes to how much plants can transform a space, Abigail Ahern's dramatic and moody use of color and stylish creepiness, Geoffrey Bawa's brand of tropical modernism from Sri Lanka.
Favorite Element: Catsquatch is probably the most treasured thing in here because I nearly killed myself to create it. A close second would be the masks my parents brought me from Sri Lanka.
Biggest Challenge: There's barely any closet space which is hard when you have a full range of seasons to deal with. Our place is 100 years old with barely any renovations so no matter how much we clean it feels like dust wants to take us by siege.
What Friends Say: "It's vibey in here"
Biggest Embarrassment: There's about 50% more stuff than there should be in a space this size. We both work from home and our trades (his-film and mine-painting) mean we have a tendency to stockpile art books, supplies, and equipment, which require the kind of storage space we don't have. Open any closet and you'll find a world of pain.
Our ancient IKEA duvet is beginning to shred itself to pieces—We should probably get a new duvet?
I also believe we have the world's creakiest floor which someone hasn't fallen directly through, which if true, would not be an embarrassment but a source of pride.
Proudest DIY: There is so much DIY it's hard to know where to start!
The DIY shelving in the study, hallway, and living room. The fact that none of the lighting has fallen on our heads.
Hanging my old 30″ cinema display on a wall with no studs using special anchors (still doing great after six years) with zero help from Paul or anybody else.
Biggest Indulgence: The massive cream patterned Moroccan rug that was $900. Everybody has to take their shoes off now because of that damn rug but it's a work of art and so cozy. It was purchased directly from a seller in Morocco.
The vitra Uten-silo that was $400 that I bought five years ago. A bit insane for a bit of plastic considering I got our vintage sofa for $500. The algue was vitra too but I was wiser then and got it for a fraction of the original price on Craigslist; it was delivered to me in a Porsche full of trash bags of the stuff.
Best Advice: Craigslist and DIY as much as you can in your space, before you buy anything new. I buy as much used as I can out of necessity, but it allows me to spend a lot on a few key things as well. That mixture of high/low is more interesting than a bunch of mid-priced stuff and it's a little less stuff ending up in landfills, so it's a win-win. Plus you can usually sell it for what you bought it for if you get it on Craigslist. In my experience, furniture depreciates at least 50 percent with its first owner and loses almost no value after that. DIY built-ins are also key to a unique but functional space.
My other big advice is large plants, which grow up to the ceiling in your space. Rubber plants and bird of paradise are good options that are harder to kill. The look of more natural finishes like unstained wood, stone, terra cotta, and concrete combined with plants will never go out of style as I believe we are instinctively drawn to those colors/textures. They make a great backdrop for artwork as well.
Dream Sources: My style would reflect me more when I have the money and space to do it over. It would be more eclectic and play with scale and color more, and lean less on mid-century items and more on sculptural forms. I would invest in independent artists and designers and also design my own custom pieces. This would be my dream home wishlist:
It's been many years since we painted, but the black in the bedroom is simply a generic flat black that's a utilitarian item you can buy at the hardware store.
All of the other colors were mixed because I'm rarely happy with the manufacturer's colors out of the can.
Artwork — My own paintings and prints, email for pricing
Shoe rack/bench — DIY using poplar planks from the lumber yard in our neighborhood
Some IKEA lack-esque floating shelves we sanded, primed and painted to match the wall.
Various plaster hands we painted blue
Lighting here and in the study is DIY combination of twin light socket adapters from any hardware store. They cost a couple dollars each. Just check how much maximum wattage they can handle and don't overload them.
LIVING ROOM (example) Sofa — Vintage daybed purchased off craigslist
Cushions are vintage turkish Kilim purchased off eBay from local sellers in Turkey. They were $20-$40
Vintage Rug was also purchased on Ebay directly from a seller in Morocco.
Coffee table — We bought the slab and legs separately at From The Source in Greenpoint over 5 years ago. The total came out to around $350 on sale
Artwork — My own paintings
Chandelier — Lindsay Adelman DIY instructions (now she sells kits to make it easier)
Bookshelf — DIY using poplar planks from the lumber yard in our neighborhood
Artwork — My own paintings
Chairs — Bought over 10 years ago, don't remember the brand, they were italian and very expensive and I could only afford 2 which is okay now because I can't fit more than 2 anyway. The ikea version came out a couple years later for 1/10 the price.
Table — Sarinen "inspired." I needed something smaller than the real thing since I don't have an actual dining room, so this fit the bill and the budget.
Artwork — My own prints
Dishrags — Mociun
Other than this, most of my kitchen things are from a yard sale when I first moved, I'm still using them.
Paintings — My own paintings
Black and white lamp is an original from artist Shantell Martin (the lamp is from Flos), and the hand sculpture is an original from her as well. This is the beginning of my journey to collect artists I have met and know in real life.
Bed — Custom made using solid walnut by expert craftsman Robert Griffice in Austin Texas, using IKEA chrome legs to make it a little more affordable. I've had this bed for 10 years and it's one of the nicest things I own. Robert is a realtor now but you could try to convince him to make you something? I found him through a beautiful table he had listed on Craigslist.
Chandelier — We replaced the ubiquitous boob lights that were throughout the house with different kinds of lighting. In this case a Capiz chandelier from West Elm. Inexpensive ceiling rosettes from the hardware store add some detail that feels age appropriate for our pre-war apartment
Shades — Replaced our plastic venitian blinds throughout the house with hemp-like roll up shades for a more natural texture.
Artwork — My own and Paul's work
Bookshelf — DIY using poplar planks and heavy duty brackets from the lumber yard in our neighborhood
Shower curtain — My own design available at Society6