Here's Why You Might Want to Copy Ashley Tisdale's Shallow Desk
We
independently
select these products—if you buy from one of our links, we may earn a commission. All prices were accurate at the time of publishing.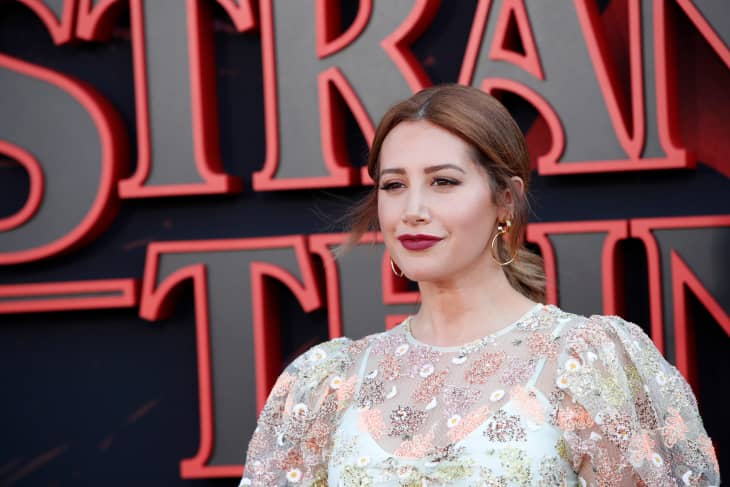 Raise your hand if clutter is destroying your work-from-home flow. You may have the perfect at-home desk set up with plenty of space to house your computer, daily planner, and a cup of coffee, and yet excess pens, potted plants, hair clips, books, and more junk just keeps creeping in from the edges, squeezing your WFH essentials out. 
Ashley Tisdale may just have the perfect solution: the shallower the desk, the less space for you to junk up your workspace (in theory).
Tisdale, the founder of the Frenshe design company, has shown off her home office space several times on Instagram, and, as one would expect from an interior design queen, it's clean, curated, and cozy. 
Of course, a quick tidy-up probably happens before any pic is taken, but Tisdale's shallow desk from Green River Project LLC really doesn't allow for much clutter to accumulate in the first place.
The length of the desk lets her put a desk lamp on one side, and a collection of pottery pieces (and a favorite candle) to her right. And there's space for an additional notebook and a mug. But other than that, things really can't pile up behind her computer or off to the side — the space just doesn't allow for that.
This desk from Article is shallow like Tisdale's. And it even includes two drawers that you can clutter up instead of your worktop.
Has Tisdale uncovered the path to a clutter-free WFH lifestyle? Maybe — most of us can definitely still find a way to fill up a shallow desktop. But if the space simply isn't there to junk up, then a less stressful workspace is much more attainable.