The "Author Clock" Tells Time Using Quotes from Books
We
independently
select these products—if you buy from one of our links, we may earn a commission. All prices were accurate at the time of publishing.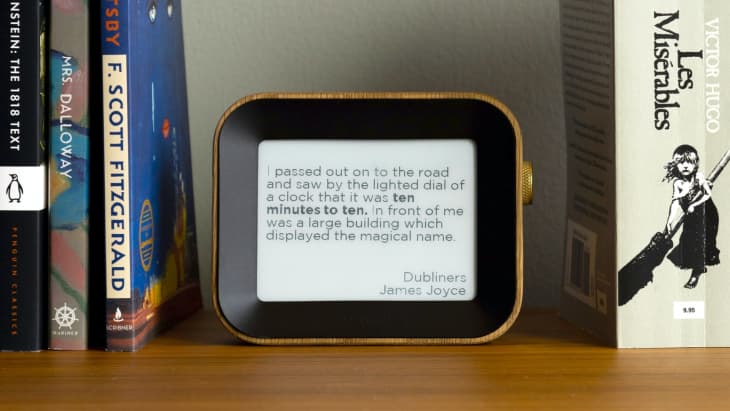 Here's a novel way to keep track of the hour. While most clocks will only tell you the time, a quirky new clock will also tell you timeless tales.
The Author Clock is a timepiece that doesn't have hands, but instead has over 2,000 quotes from literary works spanning six centuries. Here's how it works: once the clock strikes a specific hour and minute, it will flash a passage from a book. For instance, at 9 o'clock, the device will show a line from the "The Great Gatsby" by F. Scott Fitzgerald:
"At nine o'clock, one morning in late July, Gatsby's gorgeous car lurched up the rocky drive to my door and gave out a burst of melody from its three-noted horn."
There are 720 minutes in 12 hours, and the Author Clock impressively has a quote for each one. Its design, meanwhile, features a mid-century aesthetic with an easy-to-read display, white oak wooden housing, recycled plastic bezels, a brass base, and a brass knob that lets you customize the text font and size. Its simplicity makes it a fine addition to your bookshelf or reading nook wall.
Author Clock comes in two sizes, a small desktop version that can be read from up to three feet away with a battery life of up to three weeks, and a large wall version that's readable from 10 feet away and only needs to be charged every two months.