This Automatic Candle Extinguisher Will Give You So Much Peace of Mind
We independently select these products—if you buy from one of our links, we may earn a commission. All prices were accurate at the time of publishing.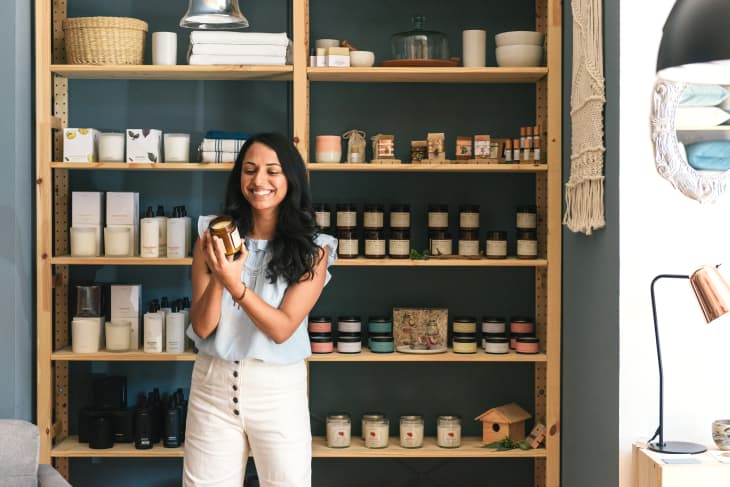 How many times have you left the house and felt that pang of panic when you can't remember if you blew out your candle or not? There's a new gadget coming to the market that will give forgetful candle lovers peace of mind.
Follow Topics for more like this
Follow for more stories like this
The AiryFairy is a patent-pending automatic candle distinguisher that runs on a pre-set timer. When the timer goes off, a slight gust of air releases from the adjustable arm, blowing out whatever candle is sitting on the base.
The base of the AiryFairy has a built-in fan that keeps your candles cool while they burn, and the sleek design blends into any aesthetic. You can set the timer to wait up to four hours before extinguishing and there's even a "test" button that allows you to make sure your candle is positioned correctly on the base.
The AiryFairy is USB-chargeable and the silicone arm is completely adjustable and will work with almost any sized candle.
The creators of AiryFairy, Zlatko and Lexi Vlasic, first came up with the idea for the AiryFairy after learning about just how many house fires, injuries, and deaths are caused by unattended candles. They found an average of 81 deaths are caused by over-burnt candles every year and candle-caused house fires rack up about $250 million in property damage annually. 
The Vlasics recently ran a Kickstarter campaign to get the AiryFairy up and running, and they've exceeded their initial goal.
Though the team behind AiryFairy still recommends never leaving a candle unattended, the AiryFairy gives you peace of mind if and when that panic hits you.