Light Up Your Kids' Workspaces With These Desk Lamps
We independently select these products—if you buy from one of our links, we may earn a commission. All prices were accurate at the time of publishing.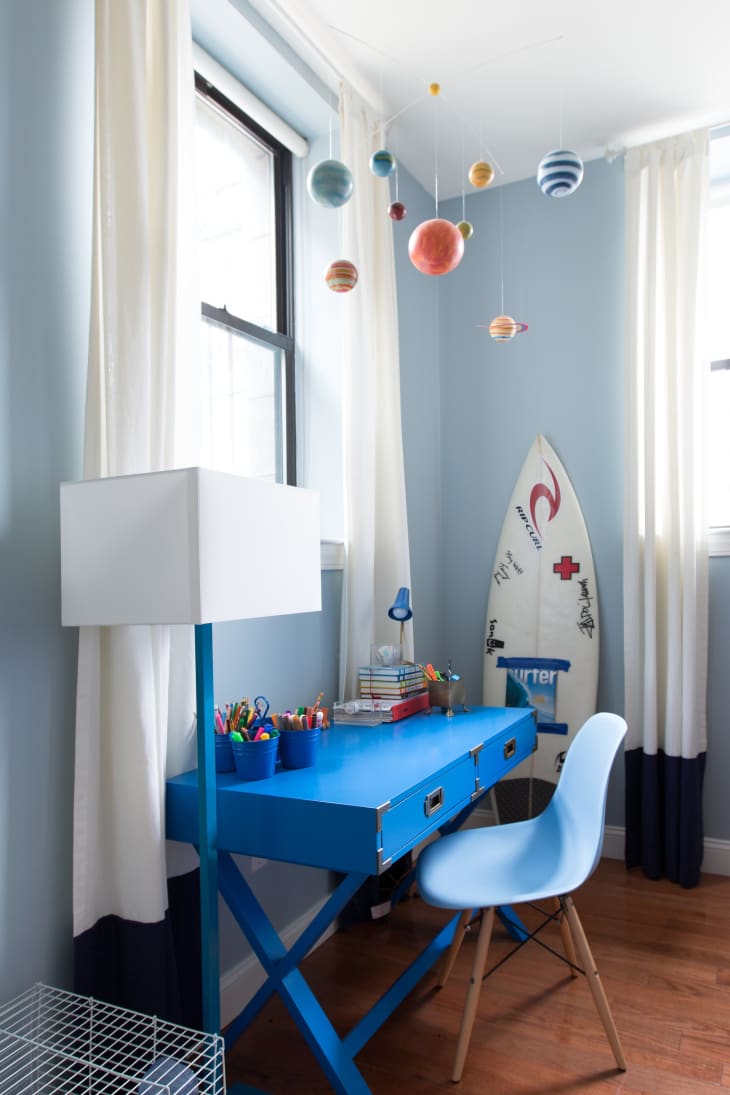 What's a work space without proper lighting? While you may have your desk tricked out with a sleek modern lamp, it's worth considering the light your kids are working with, too, when it comes to their crafts and homework. Lighting can make a huge difference—not just with visibility—but in setting the proper atmosphere, whether you'd like it to be relaxing or studious. If there's an empty spot on your child's desk just waiting to be filled, now's the perfect chance to shed some light on that area.
A stuffy adult lamp won't cut it; kids need something a little more creative than your standard task lighting. For an option that meets their needs, whether that's aesthetically or work-wise, you'll want to consider silhouette, color, adjustability, brightness, and even extra features like USB outlets and storage. Luckily, like desks, there are plenty of options available for your younger family members that are built and styled just for them. It just takes a little searching to find them. Revamp just about any workspace with one of these adorable kids' desk lamps that come in a variety of shapes, sizes, and prices.
Follow Topics for more like this
Follow for more stories like this
Toys, crayons, headphones—you name a random knick-knack, and the catchall at the base of this lamp can hold it. It helps, too, that the lamp itself is modern and angular, so your child won't grow out of it in a matter of years.
Tricked out with two USB ports and two outlets, this techy lamp also has a super cool, leather-accented touch sensor that turns it on and off. The retro shape and color make it perfect for a splash of color in any kid's room. Let's be real; it's so chic you'll probably want to buy one for yourself.
With several compartments for things like pens and notepads, kids will appreciate having a lamp that keeps everything they need within reach, including a power outlet and USB port. Multifunctional pieces like this prevent things like multiple dividers, organizers, and power strips from cluttering up the tops of their desks.
You have several pastel hues to choose from with these simple lamps. While it is your basic, no-frills lamp, it's impeccably stylish and has a movable neck, which makes it easy to adjust, pick up, and move around while crafting or doing homework.
Though shaped like a dinosaur, this lamp is made out of wood, so it actually somehow looks chic—it'll totally fit in with the rest of your Scandi-style home! Even more important, future paleontologists or dinosaur superfans will enjoy having a reminder of one of their favorite things on their desk.
Another animal-like desk lamp, most kids will adore having this animated inanimate object at their little tables. Although it's simple, they'll be able to adjust the lamp's head to point light where they need it.
The unsightly tangle of wire that most desks are fraught with these days can be fixed with a lamp such as this one, which features a wireless charging station at its base. This is especially useful for kids who are getting to the age of electronic everything.
Simple and efficient, this movable desk lamp will earn its spot on any desk. The adjustable neck allows for easy light redirection, perfect for working on projects and assignments.