The One Backyard Accessory Real Estate Agents Say You Should Get Rid Of
We independently select these products—if you buy from one of our links, we may earn a commission. All prices were accurate at the time of publishing.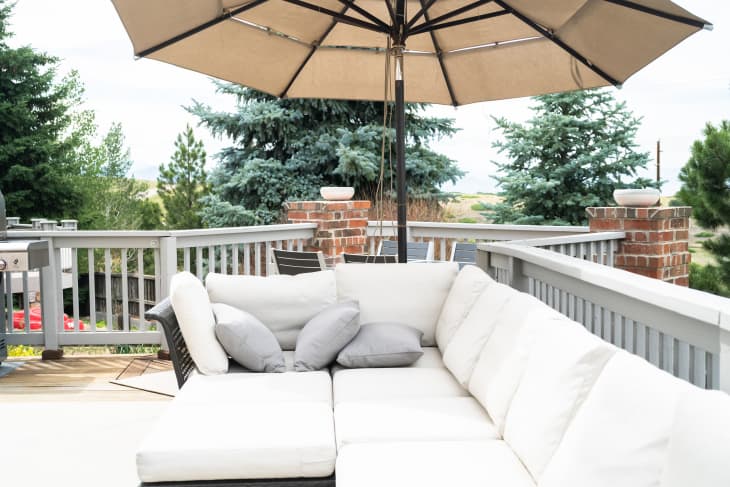 For anyone who's selling their home and happens to have an outdoor sectional, take note. The once-highly-sought-after piece of lawn furniture has fallen out of favor with real estate experts. According to the pros I spoke to, there's a very good reason why they're advising sellers to say "see ya later" to their sectionals prior to listing a property.
They aren't as easy to stage as other outdoor staples.
Follow Topics for more like this
Follow for more stories like this
As with living room sectional sofas, which take up a lot of space and are tough to reconfigure, outdoor sectionals tend to have fewer options when it comes to staging furniture, according to Melissa Zimbelman, a real estate agent, broker-owner, and property manager with LUXE International Realty in Las Vegas, Nevada. "Most yards/patios have limited flat, hard surface space to allow the sectionals to sit properly," she continues, noting that the sky's the limit when it comes to staging smaller pieces. 
They make it hard to showcase all the things your yard has to offer.
As people spend more time engaging in outdoor activities such as gardening, grilling, and socializing, Moira McCree, a real estate agent with Team McCree Homes, says many people are looking for a home where they can enjoy those activities. "For example, dining sets or picnic tables may be more appealing to people who enjoy hosting outdoor gatherings and meals, while lounge chairs or hammocks may be more desirable for those who prioritize relaxation and outdoor leisure," she says. Your outdoor sectional only highlights one possible use for your yard, which may make it hard for buyers to imagine themselves there. 
"Staging your outdoor spaces before you sell can be a highly effective way to make your home more attractive to potential buyers because they can visualize themselves using the space for relaxation, entertainment, and outdoor activities," she continues. "By showing the potential of the outdoor space, you can make it more appealing to buyers who are looking for a home with an outdoor living area." 
Sectionals are an "all or nothing" piece.
Typically, people like to update and upgrade their outdoor furniture over time (especially when they've experienced damage from the elements), something McCree says is easier said than done with these larger pieces. "Over time, many owners would love to add new outdoor furniture pieces, but due to the size and shape of a sectional, most must be kept in their entirety or gotten rid of entirely, to create space for anything new," she says. Replacing your entire patio set before listing your home isn't in everyone's budget, which can make it hard for you to put your yard's best foot forward when it comes time to list. 
You don't need to get rid of your sectional.
While people (like me!) may be hoping that this news means well-loved outdoor sectionals will suddenly be hitting Facebook Marketplace for a fraction of the price, the reality is that sellers don't have to shell out for new furniture if it's not in their budget. Instead, Zimbelman says there are a few creative ways you can get around some of the bigger pitfalls of outdoor sectionals. Take a look online to see some of the out-of-the-box ways other people have split or reconfigured theirs to make the most out of what you already have.