Erin & Ken's Backyard Redesign: The Final Budget Breakdown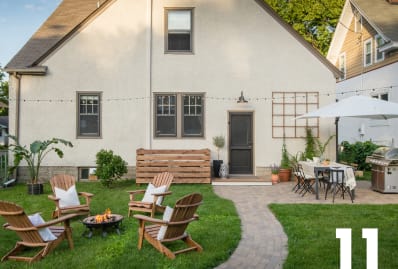 (Image credit: Erin Francois)
Name: Erin & Ken Francois

Type of Project: Backyard Redesign
Location: Upper Tangletown — Minneapolis, Minnesota
Type of building: 1930s Tudor-Style Duplex
Erin and Ken finished their total backyard on time, but did they also get the job done on budget? What's your guess? Did they go over or under?
Budget Breakdown:


Labor:
Electrician: $494.46
Design fees: N/A
Appliances:
Fixtures:
Exterior Backdoor Light: $325.96
Garage Sconces: $192.55
Building Materials:
Semi Raised Gardens: $112.75
Screen Door & Hardware: $88.88
Garage Main Door + Hardware: $303.98
A/C Fencing $245.96
Stoop Surround Materials: $330
Patio Pavers: $2038.59
Finishes:
Paint: $75.96
Miscellaneous:
Bagster Waste Removal: $150
Decor:
Patio Furniture (Table, Chairs, Cushions, Umbrella, Accessories) : $772.36
Trellis: $31.66
Pots and Plantings: $767.44
Sod: $75
Estimated Budget: 5880.00
Total Final Budget: $6294.12
From Erin:

In the end, we were over budget by about $400. Much of the additional cost was due to our low-ball patio paver budget number, and the sconces we later decided to add at the garage. However, the electrician's fees and the yard plantings were the other two main contributing factors. Who knew plants were so expensive!? We thought $600 was a generous budgetary number, but we ended up breezing right through that in no time.
We love our new backyard though, and are okay with the additional cost, all things considered. #worthit