This Colorful, Clever Find Will Make Your Laundry Dry Faster and Smell Amazing — And It's on Sale!
We
independently
select these products—if you buy from one of our links, we may earn a commission. All prices were accurate at the time of publishing.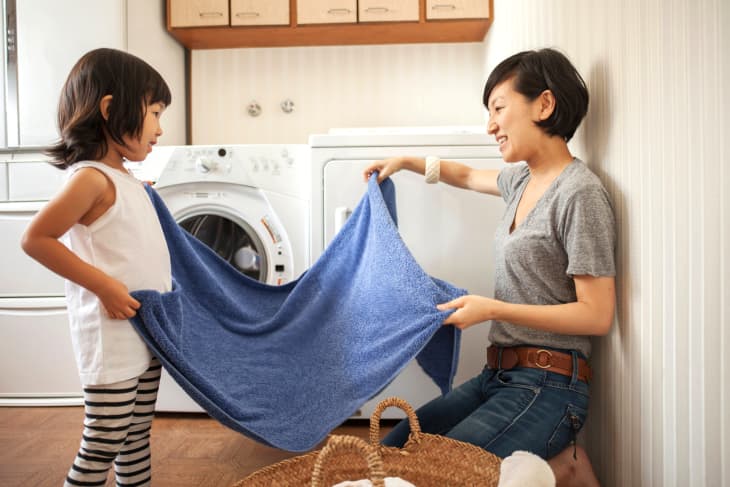 Laundry is one of the household chores that I actually LOVE to do. There's just something about laundry day that makes me feel productive and relaxed all at the same time. I enjoy picking out detergent, the warmth of newly-dried sheets, and how nice and clean everything smells once it's done. In the past, I was a devoted user of dryer sheets until I realized that dryer balls were a much better and cost-effective alternative for me. Compared to dryer sheets, wool dryer balls are longer-lasting and won't leave behind a coat of fabric softener that could potentially diminish the quality of your clothes and linens over time. If you love great-smelling laundry fresh out of the dryer, that result can be accomplished without dryer sheets at all. A collaboration between Ban.do and sustainable lifestyle brand Friendsheep has made that process even easier with their Dryer Ball and Essential Oil Set — and they've done it with vibrant style.
The Ban.do x Friendsheep Dryer Ball and Essential Oil Set comes with four multicolored, 100-percent wool dryer balls and a bottle of essential oil that's a blend of citrus, lavender, rosemary, and sage. You also get a drawstring bag to store everything in along with a user manual that breaks down how to use them properly. The dryer balls help to dry your laundry 40 percent faster and can be used for over 1000 loads. That means you'll save a lot of money in the long run since you aren't throwing them out after every use like disposable dryer sheets. In case you didn't know, one easy hack for scented laundry is adding a few drops of fragrance to your wool dryer balls, as much or as little as preferred (4-7 drops is recommended). Since the dryer balls can be reused, they'll sometimes hold on to the scent for a few rounds of laundry before needing another dose of fragrance. 
What makes the wool dryer balls from Ban.do and Friendsheep so special is that they're made to be functional and fun. Sure, it's all in appearances, but bright and colorful dryer balls are so much more interesting to see bouncing around your laundry than the all-natural tones. Not to mention they're also a lot easier to find when you're taking your clothes out of the dryer. Once you run out of Friendsheep's essential oil blend, you can pick another scent that you love to replace it — or use your favorite from the start in lieu of the one that comes with the set. No matter which you choose, how your laundry smells is completely up to you. It's just another small, often overlooked method of putting a dash of personality into your home care without doing a total overhaul of your life. And it benefits the environment too, which is a double WIN in my book!