4 Reasons Basements Are Actually Beautiful, According to a Basement Expert
We independently select these products—if you buy from one of our links, we may earn a commission. All prices were accurate at the time of publishing.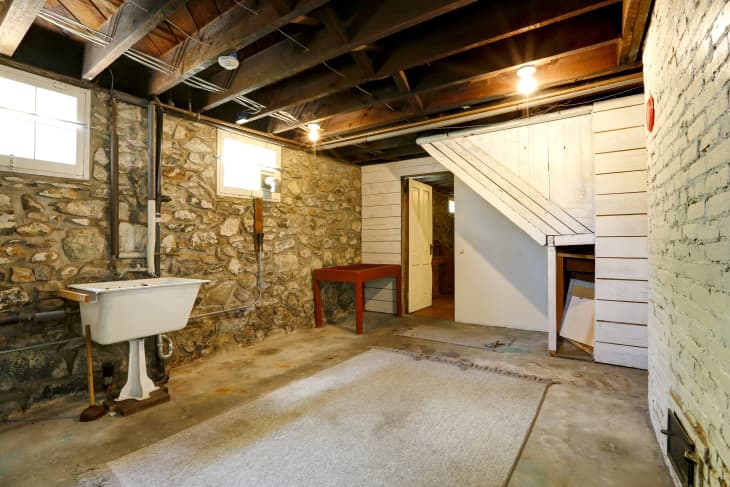 The basement at my uncle's house in Massachusetts has that smell. Immediately after cracking open the door, you're hit with a whiff of pure, unadulterated basement. It's a special scent a lot of basements seem to share, along with (in my mind, at least) scenes of cement, plywood, and exposed pipes. This aesthetic I associate with basements isn't exactly flattering, but for Boston-based real estate agent Kate Ziegler, this aesthetic is beautiful.
Ziegler is a realtor, investor, house-flipper, and entrepreneur extraordinaire. She curates images of the basements she encounters on the job with an Instagram account called @ihavethisthingwithbasements. There, you'll gaze upon the sort of things that give me flashbacks to my uncle's basement: Electric meters, bricks, cement, various cylinders and machines I can't identify. The basement eye candy is only the beginning of what makes basements beautiful. Ahead, Ziegler shares four reasons to love the subterranean house feature, musty stench and all.
Follow Topics for more like this
Follow for more stories like this
Basements hint at a house's history
Unfinished basements offer a treasure trove of curiosities. "What I love most about basements—the old-fashioned, spider-filled kind—is the hints to the history of the home," Ziegler says. "The older the basement, the weirder it will be, with tiny trinkets left in corners from past owners, structural updates, repaired damages, and clues about the heating system before this one." Basements, she explains, allow her to solve the mysteries of a home, whether that's deducing the choices a previous owner made about the house, or deciding on the next set of choices to fix an issue down the line.
They can add valuable living space to a home
Finished basements, meanwhile, are almost like the original house hack. They add a good deal of square footage to serve as living space, all within the envelope of an existing home, Ziegler says. The only downside as a buyer or homeowner is that putting up walls doesn't allow you to see what's happening behind them, with systems like plumbing and wiring hidden away. "Even issues from upstairs, like a leaking dishwasher, will become visible in the basement eventually," Ziegler says. "But it will be apparent sooner if finished ceilings aren't obstructing the view."
Basements can be downright wacky
Of all of the normal and not-so-normal basements Ziegler has toured, a few wacky favorites come to mind for her:
The house that had an actual live water main break in the basement during the showing, just pooling in the corner like a koi pond with no one seeming to care
The in-ground-swimming-pool-turned-basement
The investment property where decades of improper drainage and neglect had left visible daylight between the blocks of the foundation walls
The pre-Revolution colonial that sloped in multiple directions, which was the only basement that I've ever felt closing in on me. It was held up in one corner with a bundle of cardboard.
They require TLC, just like the rest of your house
Basements, even if you can't recognize their beauty, need to be cared for. 
"Don't ignore your basement!" Ziegler says. "Whether the space is finished or not, whether it feels 'scary' or not, you need to be there periodically to keep tabs on your systems and structure."
You can tell a lot about the health of your house by the condition of a basement. And the condition of your basement has plenty to do with moisture. 
"Managing moisture will keep masonry (foundations, brickwork) solid, wood structure (sill plates, main beams, floor joists) dry and less inviting to insects, and flooding to a minimum," Ziegler says. "The easiest, cheapest first step anyone can take to reduce basement moisture is to install extenders on all gutter downspouts—get water away from your foundation, and things can only improve."
A dehumidifier doesn't hurt either, adds Ziegler. She recommends finding a model you can drain through a laundry sink or basement drain so you don't have to empty it.