You've Been Using Your Bath Towels All Wrong, According to a Dermatologist
Apartment Therapy received compensation for this post, which was written and edited independently by our editorial team.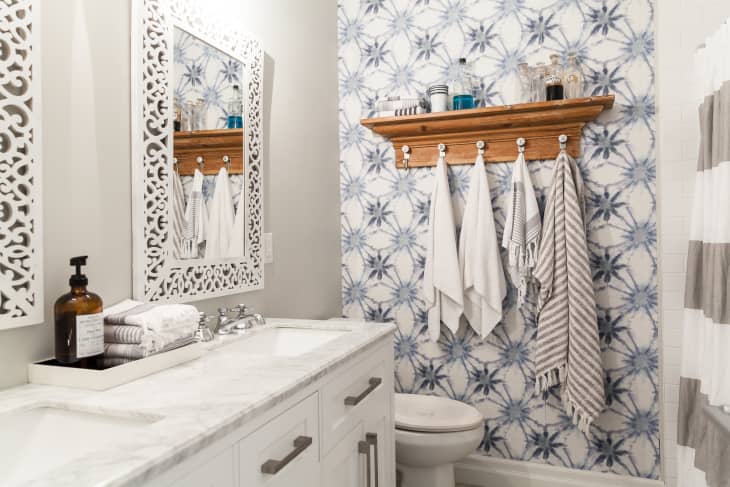 Whenever I can wear less makeup and give my skin a breather, I relish the chance to devote some extra time to leveling up in the skin care department. Typically, that means paying extra close attention to the products and water temperature I use — but until I consulted a dermatologist, it hadn't occurred to me just how much my towel usage played a role in my skin's TLC.
Exactly how much does the quality of our towels, and how often we use them, affect our skin? Well, it turns out the answer is quite a lot. Dr. Howard Sobel, founder of Sobel Skin and attending dermatologist at Lenox Hill Hospital in New York, says a common mistake people often make is using the same bath towel for both the face and body. Because bacteria and even mildew can be easily transferred through an overused towel, "You should use a separate towel for your face, and another one to dry your body after a shower," Sobel says. "The products you put on your body, such as fragrances and hair products, should not also come in contact with your face."
Follow Topics for more like this
Follow for more stories like this
Another piece of his advice is that changing out your used towels for clean ones is paramount: You should only use a bath towel three to four times before throwing it in the wash. For towels used exclusively to dry and clean your face, its more like one to two times. "When bath towels are too old, they are no longer as efficient," Sobel explains. "They will not dry you properly and may collect germs and bacteria [over time]. That's also why you should replace your towels every other year."
So which towels are actually ideal to use for both your body and your face? Sobel says you can't go wrong with quality cotton. "A cotton or cotton blend washcloth or hand towel is preferred for the face," he says. "Quick-drying options for washcloths are also a great option as some work to help with exfoliating dead skin cells. Turkish cotton is a great option for your body. Because of the extra-long fibers, the towels are softer, plush, and more absorbent."
Ready to step up your towel game? Shop the best towels for the face and body below.