This Anaheim House for Sale Has a Room Full of Bathtubs, and TikTok Has Questions
We
independently
select these products—if you buy from one of our links, we may earn a commission. All prices were accurate at the time of publishing.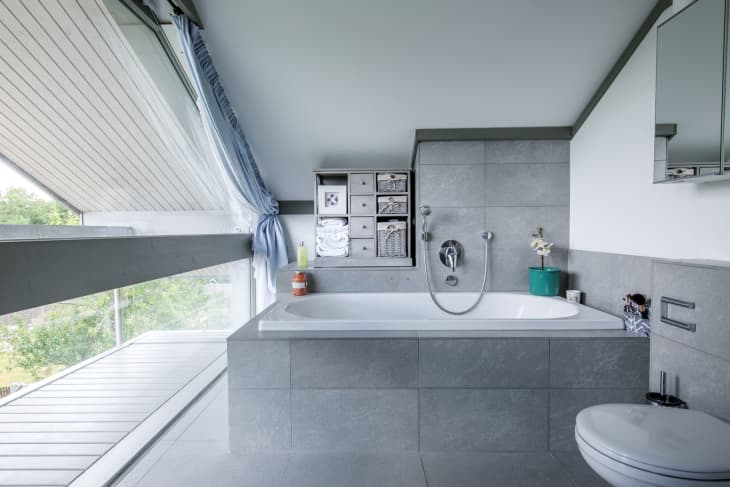 Looking at real estate in the Anaheim, California area? Then you may want to take a gander at this 1980s-era house that is currently going viral on TikTok. Built by Tom McMullen, the founder of Street Rodder Magazine, the $2.1 million mansion isn't going viral because of its 12-car garage, atrium, and wine room. No, it's going viral because one room is home to three built-in jacuzzi tubs, which is sending TikTok into a tizzy.
Posted by the TikTok account @zillowtastrophes, the Anaheim mansion sits on 1.2 acres of land and boasts four bedrooms and six bathrooms (seemingly not included the actually bath room on the main level of the home). Built into a marble and tile enclosure, three jacuzzi tubs sit just a few feet away from the couch and flat screen TV and are obviously meant for entertaining.
There's also a loft positioned above the bathtubs that can be accessed via ladder in the primary bathroom, a shower and coinciding full-length window placed precariously next to the front door, and there's also a dining table that is literally built into the hallway floor, making it ideal for some sort of dinner and a show.
So…people are wondering, what the heck went on in this house?
The Zillow listing provides no hints except for the fact that this place is "an entertainer's dream." But the commenters have other ideas.
"I don't think that's a table," one person wrote. "I think they removed the stripper pole…it's a stage!"
Another commenter simply wrote, "Swingers" and someone else asked if @zillowtastrophes found any upside down pineapples in the virtual tour. "No," they wrote back, "but I think some mysteries still surround the 'upper level' and how you're supposed to access it."
And one other eagle-eyed commenter messaged @zillowtastrophes to point out all the outlets located around the home.
The price has already dropped over $100,000 since @zillowtastrophes first posted their video back in early January. So if you're interested in uncovering the mysteries of the McMullen mansion and have a couple million to spare, you still have the opportunity to do so.