This $40 Electric Kettle Makes My Mornings and Quick Meals Easier with the Press of a Button — Plus, It's So Beautiful
We
independently
select these products—if you buy from one of our links, we may earn a commission. All prices were accurate at the time of publishing.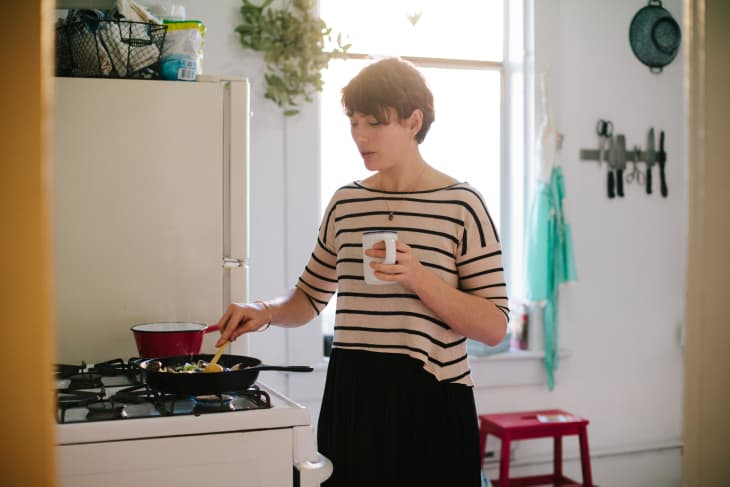 Part of my morning routine includes a hot cup of tea or coffee between feeding the dogs and starting work for the day. Having an hour to work with most mornings means that time can get a bit tight because my list of things to do before I even sit down at my desk is a mile long. For that reason, getting breakfast in front of me quickly is of the utmost importance. As much as I'd love for tea to be a calming start to my day with carefully curated steps, more often than not, it's a rush to get the drink into a mug and sweetened to my liking before the clock hits 8:00 a.m. My stovetop kettle is usually reserved for weekends when I can move slower, but during the week, an electric kettle is my best friend. I've had the benefit of trying a few here and there over the past year, and the one I keep coming back to is the Walmart-exclusive Beautiful by Drew Barrymore One-Touch Electric Kettle.
Available in six eye-catching colors, the Beautiful One-Touch Electric Kettle holds 1.7 liters of water and has a double-walled stainless steel interior and plastic casing that gives it a sleek and elegant appearance. A thumb-shaped button atop the handle opens the lid, but it's important to note that the lid doesn't come off completely. To fill it, you can put it under a faucet, but for larger boils, it might be easier to fill it with a cup if you don't want to end up turning it sideways or tilting it backward. The minimum and maximum lines are clearly marked inside the kettle, and it's well below the top to ensure you don't overfill it. Most of the time, I'm using the kettle for morning tea or pour-over coffee, noodles, oatmeal, or other just-add-water meals that would otherwise have to go on the stove or in the microwave. Unfortunately, I don't always have time to prepare a proper lunch, so it's super convenient to be able to quickly boil water for food and drinks while I continue with my day.
Of all the electric kettles I've tried, I love the Beautiful Electric Kettle's digital touch display the most. The temperature numbers are large and easy to read, and the buttons are nearly self-explanatory. There are four preset options that include White, Oolong, and Green teas as well as Boil for a basic kettle of water. With the touch display, you're able to control the temperature, power the kettle on and off, and use the "Warm" setting to keep water hot for up to an hour. The dock sits in line underneath the kettle so it all looks like one piece when not in use. Plus, the power cord is built into the dock, leaving the kettle cordless for the ultimate convenience while navigating your space. For such an affordable and stylish kettle, I was blown away by how quickly it boils water. I'd start it, begin grabbing items for my breakfast, and the kettle would chime to let me know the water was ready before I'd have a chance to leave the kitchen!
As I said, while I have more than one kettle, the Beautiful by Drew Barrymore One-Touch Kettle is the one I use the most by far. If for nothing else than how swiftly it works. It's not the smallest kettle I've had on my counter, but it's certainly one of the most giftable thanks to its variety of colors and modern appeal. Additionally, the minimal details and accents add to its charm. Though I'll be moving the Beautiful kettle out of my kitchen soon, its new home will be in my office where I'll only be using it even more throughout the day. What can I say? I'm hooked!