Beautifully Balanced Design Ideas to Steal from a Couple with Completely Opposite Decor Tastes
We
independently
select these products—if you buy from one of our links, we may earn a commission. All prices were accurate at the time of publishing.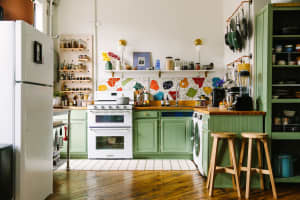 Can't-Miss House Tours Straight to Your Inbox
Keep up with our latest house tours each weekday with our House Tour of the Day newsletter
Allen Loeb is a lawyer. Nate Clark is a comedian and actor. And according to the couple (who share a house in West Hollywood) though they don't bicker about much, they each have entirely different tastes when it comes to designing a home. While some might crumble under the pressure of trying to design with different tastes, these two have created a lovely home together that fits both of their personalities. If you find yourself in a similar boat with whoever you live with, consider trying the decor ideas Allen and Nate used; you'll end up with a sophisticated space that makes everyone happy.
Allen and Nate explained their opposite design outlooks in the survey of their recent house tour:
"If Allen had his way, then the walls would all be white and the furniture would all look like it was made for an office. Nate prefers warm, dark and intimate spaces (like a private smoking library in a mystery movie). But, they found that their tastes meet at a neutral gray palette, with occasional blue accents, clean-lined furniture and natural materials."
You can't really get more opposite than a stark-white modern office and a dark, traditionally furnished smoking library. And while their home looks like neither of those two design styles, they were able to compromise by choosing a soothing mix of elements to create a signature look that works for both of them.
It's not a mix of elements from either of their "dream" spaces (I'm all for eclectic, but I'm not sure how those two types of styles would mix!). Rather, their home now is a new style that embodies what they probably ultimately wanted in a home: a beautiful space where they can both feel comfortable. This West Hollywood house is not a mix of two opposite styles; it's a blending of tastes that has became a new, unique style that fits them both together.
→ Though I don't know every design decision that Allen and Nate made in their home, I was very inspired by many elements I spotted—and recognized them as ideas that could help in someone else's home:
A great wall paint color throughout
It doesn't have to be white (though that's what Allen and Nate went with in many of the rooms), but picking a neutral color (whether that's white, gray or beige), means creating a bright and clean canvas that the two of you can arrange your decor on together. Some of the warm and fresh white wall paint colors Allen and Nate went with in their home:
Benjamin Moore, color-matched to Farrow & Ball Strong White
Master bathroom: Benjamin Moore Cloud White
→ (See the whole paint color list in their full tour)
Bold patterns in subtle colors
A great way to compromise between someone who might want dramatic design and someone who might prefer more subtle solutions is to marry the two in a bold pattern that features soft colors. Allen and Nate's kitchen is a perfect example. A soft cream and a subtle blue combine with the powers of contrast (and an energetic pattern) to add interest in a minimal kitchen.
→ Love the pattern Allen and Nate went with? It's a concrete floor tile by Granada Tile from Filmore Clark.
Classic materials used in modern ways
Sometimes it's not styles that living partners bicker about, but rather eras of design. Some people prefer traditional styles, shapes and designs—others enjoy more contemporary and modern looks. But you can almost always marry two ends of the design spectrum by combining classic materials (like marble) with more modern applications (like the small marble subway tiles and clean lines of Allen and Nate's bathroom above).
→ Allen and Nate went with Carrara tiles from Modul Marble in the bathroom above.
This isn't necessarily the case for Allen and Nate, but their dining room illustrates (in my opinion) a great last-resort decor option for couples who just can't agree on much. If you can't decide on a lot of decor elements, then layer a lot of the decor elements you do agree on! So for instance, in the dining room above, warm woods anchor much of the furniture and the flooring. Natural textiles show up in the neutral floor rug and the dining chairs' golden caned backs. The only real color is two gray-toned, earthy blues that definitely mimic the kitchen's floor tiles. So while there's not a huge variety of design elements, by incorporating design elements that mirror and complement each other, the space is still sophisticated and full thanks to layering.
→ How to Pull Off the Art of Layering in Interiors