Bedroom From Scratch: Boho Getaway Inspiration
At Apartment Therapy, we feel strongly that your home should reflect your personality. And nowhere is that more crucial than in your bedroom. After all, it's where you begin and end each day, it's your most inner retreat from the outside world, and it's where you can truly be you.
Lately, we've been getting our design and decor inspiration from our travels – not only different cultures and experiences, but from the fabulous hotels and B&Bs we stay in along the way. What better place to model a new bedroom on than a place designed to be a getaway? In this video, we teamed up with Value City Furniture to show how you can have a boho staycation every night – at home!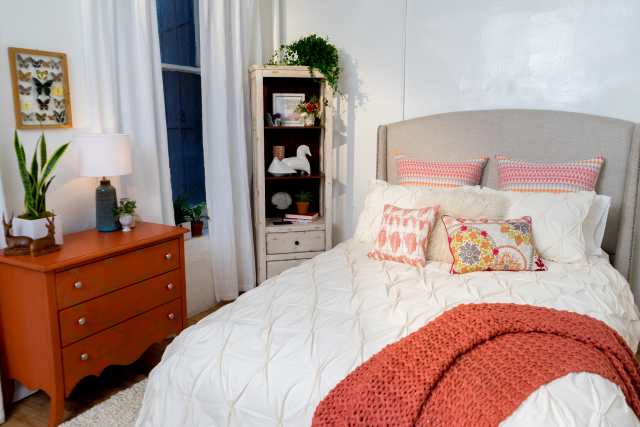 The defining characteristic of a bohemian bedroom is the sense of a story behind the pieces – a slightly distressed finish on the the furniture, a cool painted pattern on a dresser complementing a cool patterned fabric on a chair, and layers and layers of blankets, pillows and wall hangings.
We like a boho bedroom that showcases personal treasures from your travels, and if you can add a bunch of houseplants, so much the better!
The furniture in this boho bedroom may look like it was gathered over years and years of successful trips to far-flung antiques markets, but we got it all at Value City Furniture. Their new Bedroom Getaway collection features pieces inspired by the best small hotels – stylish and personal, and rich with a sense of story.
You don't have to spend a lifetime or a fortune creating the bedroom that most fits your personality. Everyone deserves a retreat they love to come home to – what will yours look like?
Shop the Value City Furniture Bedroom Getaway Collection Now