These Bricks Have Tiny Holes That Provide Shelter for Endangered Bees
We independently select these products—if you buy from one of our links, we may earn a commission. All prices were accurate at the time of publishing.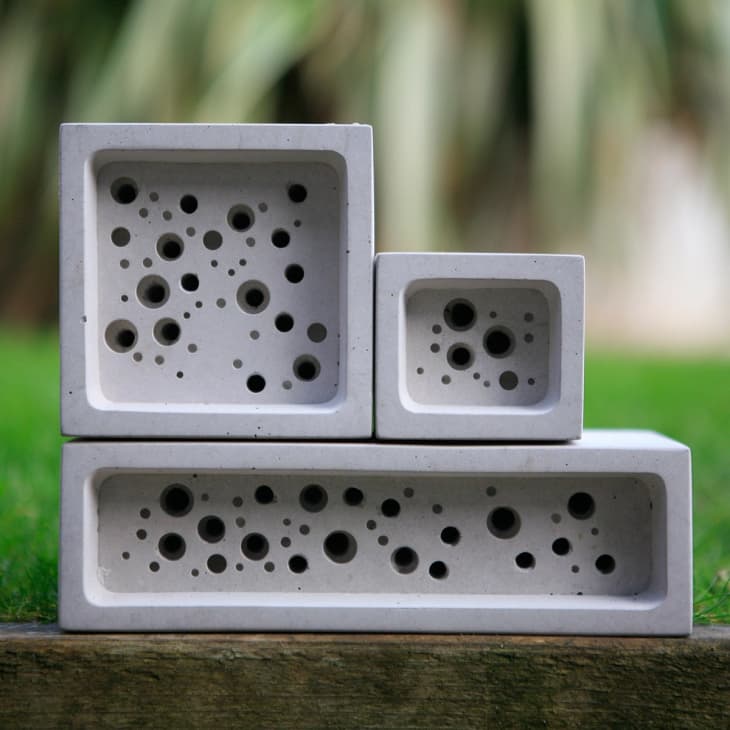 Here's something that's got the architecture community abuzz: while many parts of a home try to keep insects out, a new kind of brick encourages insects to come in.
Hard to bee-lieve, but it's true. Cornwall, England-based company Green&Blue has produced Bee Brick, a unique building block with holes of various sizes, able to serve as habitat for bees. 
Why would anyone want bees nesting in their home? Isn't that dangerous? The bricks are actually for non-swarming solitary bees such as red masons, leafcutters, and other cavity-nesting species that live outside colonies. The company explains: "Solitary bees are fascinating to watch and a wonderful way to introduce kids to bees. [They] have no queen or honey to protect, meaning they are non-aggressive and won't sting."
With bee populations declining due to disease, habitat loss, and climate change, simply installing a brick in your garden can greatly help their survival. And as a bonus, the sight of bees happily bumbling about in your flower bed would add personality to your property.
Bee Bricks recently made the news after the cities of Brighton and Hove, following similar policies in Dorset and Cornwall, announced that new buildings more than five meters tall must include some form of shelter for the endangered insects. Seeing as the U.K. alone has about 250 solitary bee species, this is definitely good news.
A Bee Brick costs £30 (about $40) and is available in white, black, red, and yellow. You can head over here to learn more.